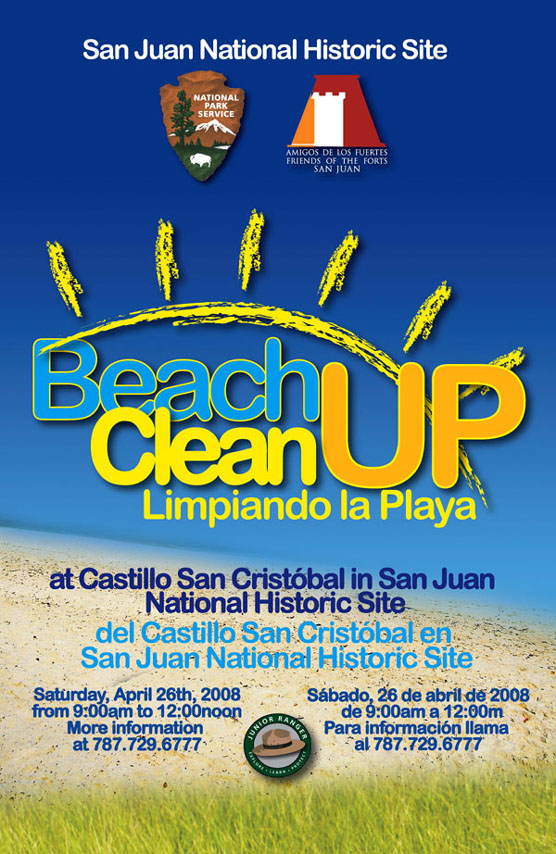 News Release Date:
April 21, 2008
Walter J. Chavez, Superintendent of San Juan National Historic Site and Ana Vera, Acting President, Los Amigos de los Fuertes del Viejo San Juan announced today, a clean up activity on the beach area of Castillo San Cristobal. This small but highly visible stretch of sand is on the north side of Castillo San Cristobal and features the historic Garita del Diablo.  This beach receives a large amount of trash and debris from passing ships and this volunteer effort will contribute to ensure the beach is clean and provides our visitors with an enjoyable experience.
"This is an excellent opportunity for individuals, community groups, and others to join the National Park Service in cleaning this area, while experiencing the Garita del Diablo and the massive north walls of San Cristobal" said Superintendent Chavez. "We are especially pleased to be joining forces this year with Los Amigos in this cooperative effort" added Superintendent Chavez.  Amigos de los Fuertes del Viejo San Juan is a newly established non-profit organization dedicated solely to the preservation and education about these historic resources. As well as fundraisers for projects and programs, they serve as advocates for the fortifications of San Juan National Historic Site.
"History left us the magnificent legacy of the Forts in Old San Juan and we must feel proud of how they represent Puerto Rico and our people throughout the World" expressed Ana María from Amigos.  "The conservation and preservation of these resources must be a shared responsibility and there is no other way to do it then to collaborate and learn through participating in these types of events now and in the future.  We can assure you that the experience is enchanting."
The clean up is scheduled for Saturday, April 26th from 9:00 a.m. to 1:00 p.m. Participants will meet at Castillo San Cristóbal parking lot on Calle Norzagaray.  Volunteers will be grouped in teams, which will clean up specific sections of the beach.
Cleaning equipment will be supplied to volunteers.  Lunch and water will be provided for volunteers while supplies last.  Please wear appropriate shoes and be prepared to walk over uneven surfaces.  Bring a hat and dress appropriately for inclement weather conditions. Volunteers will be given the opportunity to visit the forts free of charge after participating in the activity.
Children are invited to stay after the clean up to participate in the parks new Jr. Ranger program. The program teaches environmental ethics and local history through fun activities and upon completion, children are presented with their very own Jr. Ranger Badge.
All interested volunteers, community groups or sponsors should call 787-729-6777 to sign up or get additional information on the clean up. 
San Juan National Historic Site is comprised of Castillo San Felipe del Morro, Castillo San Cristóbal, Fort San Juan de La Cruz (El Cañuelo), the San Juan Gate, El Paseo del Morro and a major portion of the City Wall. The site is open everyday, except Thanksgiving, Christmas and New Years Day.  Admission to San Juan NHS is $3.00 per fort for adults (16+), children 15 and under enter free of charge.          
######