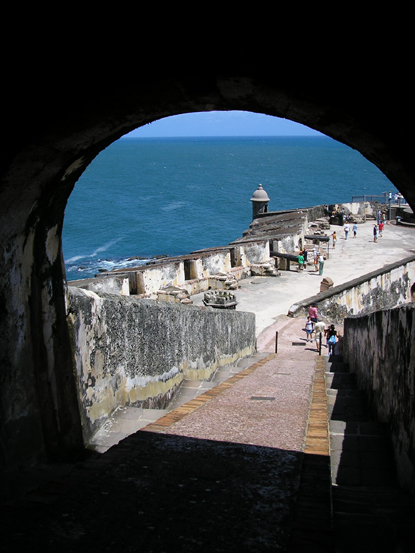 News Release Date:
April 19, 2007
Walter J. Chavez, Superintendent of San Juan National Historic Site announced today the celebration of National Park Week, April 22nd to the 28th. The park will be hosting several events throughout the week to commemorate National Park Week. Beginning with Sunday, April 22nd, the park will host a special activity at Castillo San Felipe del Morro to announce the successes achieved in developing restoration projects related to the 1994 Berman Oil Spill. Speakers for this event include the Honorable Aníbal Acevedo Vilá, Governor of Puerto Rico and Patricia Hooks, NPS Southeast Regional Director. This event will be followed with a special ground breaking ceremony for the Paseo del Morro extension project. Other events scheduled for the week include a Behind the Scenes Tour of Castillo San Cristóbal, Preservation programs, inauguration of the new Junior Ranger program and a Trail Cleanup on the Paseo del Morro. A full schedule of events with times and locations will be published shortly.  
National Park Week is an annual Presidentially proclaimed week for celebration and recognition of Your National Parks.
Your National Parks are living examples of the best this Nation has to offer - our magnificent natural landscapes and our varied yet interrelated heritage. Parks can provide recreational experiences, opportunities to learn and grow, and places of quiet refuge.
"l encourage you to join us in celebrating National Park Week and take part in the many activities we have planned for you. We are especially proud of the variety of events we will be presenting this week" said Superintendent Chavez.  
All events are presented in Spanish and English. Some events are limited in the number of participants who can participate, and will be filled on a first come-first served basis.  For more information about activities for National Park Week here at San Juan National Historic Site, please call 787-729-6777.
San Juan National Historic Site is comprised of Castillo San Felipe del Morro, Castillo San Cristóbal, Castillo Juan de La Cruz (El Cañuelo), the San Juan Gate, and a major portion of the City Wall. The site is open everyday, except Thanksgiving, Christmas and New Years Day. 
Admission to San Juan NHS is $3.00 for adults (16+), children 15 and under enter free of charge.
####