Restoration of the walls Santa Elena and San Agustin Bastions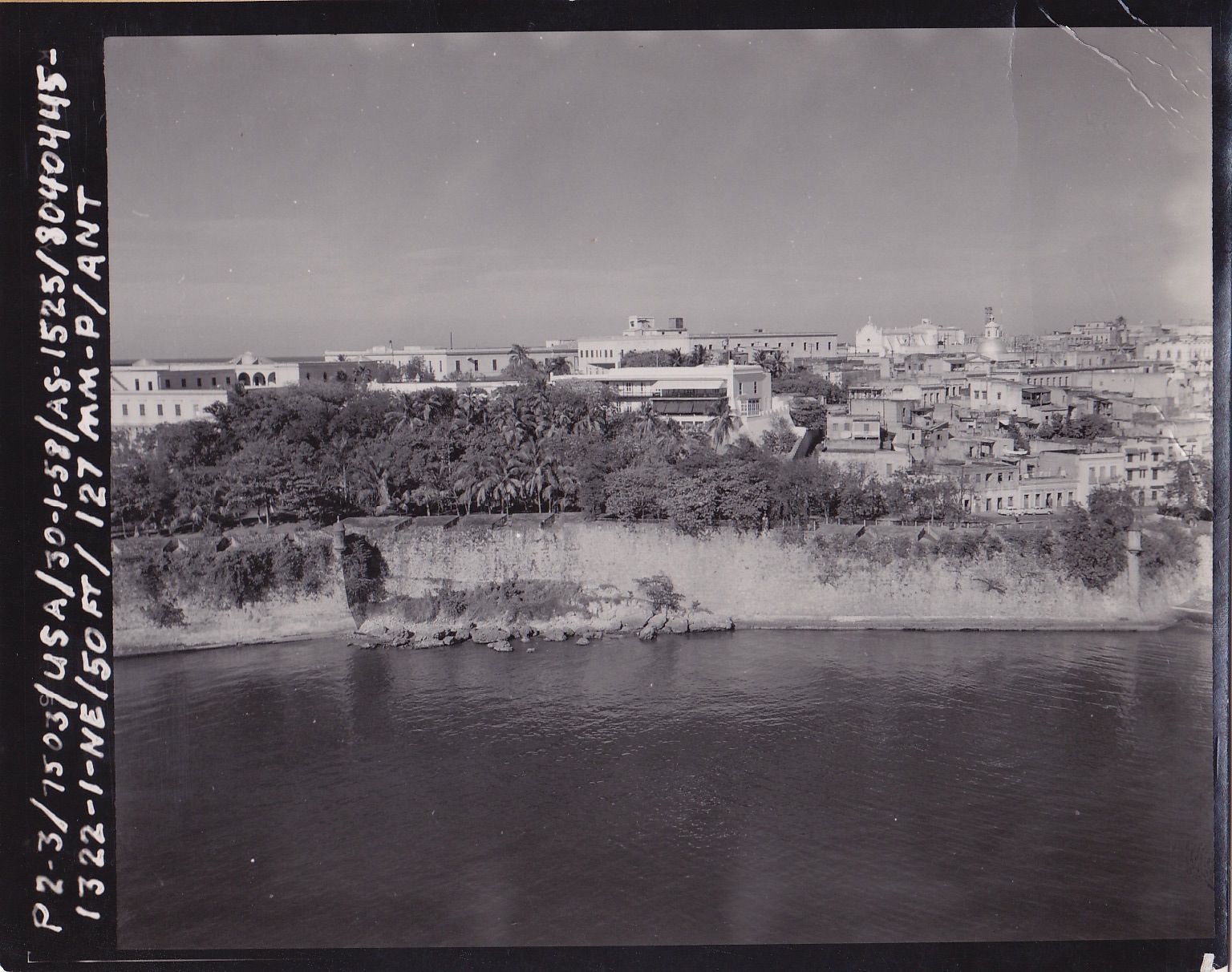 News Release Date:
June 21, 2017
Contact: SAJU Superintendent, 787-729-6777
San Juan National Historic Site Family:  
Recently questions have arisen about why the restoration of the walls that are white in color. We appreciate every opportunity we have to explain our Puerto Rican history!  
The preservation of the Santa Elena and San Agustín Bastions is the first comprehensive preservation project that has been done at the park under the National Park Service (NPS), to protect resources that have been in peril since Spanish colonial times. This section of the wall, through the history of the fortifications is one of the most fragile because of erosion on the foundations of the wall. Santa Elena dates back to the 16th century and in the site where San Agustín Bastion is, the Spanish constructed the San Gabriel Battery, remodeled in the 1640's and renamed "San Agustín". Both bastions have been subjected, throughout their almost 500 years of existence, to numerous changes, mainly to adapt to the military technology of the time. The only thing that didn't change until the end of the 19th century was the materials and constructive techniques employed to build and maintain them.  
The West Wall was originally built using sandstone and bricks, filling them with rubble. The exterior faces of the walls were then coated with a mortar mix made of sand and lime. In certain cases, and depending on what part of the fortification system, the lime mortar mix can include brick dust. However, in the material analysis of the mortar used for the coating of the exterior surfaces of the West Wall, brick dust was not found. That means that the walls, when maintained by the Spanish, retained a bone white color. This means that in performing regular maintenance to the walls (every 5-10 years, depending on the section of the wall) the Spanish would've maintained the wall clear of vegetation and looking clean or with the appearance of being "new".  
In keeping with this tradition, the NPS has looked back at what the Spanish did, how they did it, and what materials were used. Before we started the preservation project we did a condition assessment to ensure that we were addressing the structural and aesthetic conditions of the West Wall. We have studied the effects of the use of materials such as cement and how they have affected the historic fabric of the walls. Our amazing and gifted masons have done many wall mock ups in which they practice proper removal of incompatible materials, and its replacement with traditional (historically documented) materials. We tested the chemicals for the removal of the micro-flora, lichens and other biological elements to ensure the elimination of moisture sources. We did this to ensure that before we even went to work at the wall, we have removed or minimized any undesired outcome when preserving the wall.  
The park knew that the walls would "look like new" when we went into this project. We took a culturally conscious decision to go with the best solution to preserve the wall. A decision that is consistent with our Spanish history.  
The mission of the National Park Service is "to conserve the scenery and the natural and historic objects and the wild life therein and to provide for the enjoyment of the same in such manner and by such means as will leave them unimpaired for the enjoyment of future generations." In this project the NPS has made sure that the staff working on it is second to none, that treatment recommendations are derived from documented conditions and proven effective not only by past practice but also by scientific testing. We are following the traditions and techniques used by our ancestors but mixed and enhanced by the technological improvements of the 21st century. We are very proud of what our internationally renowned preservation team has done and are doing to preserve the Santa Elena and San Agustín Bastions.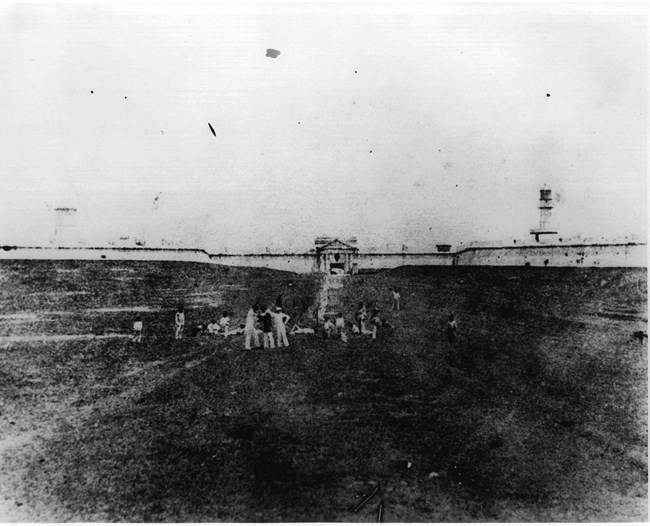 VERSION EN ESPANOL
Familia de San Juan National Historic Site:
Recientemente han surgido preguntas acerca de por qué la restauración de las paredes son de color blanco. Agradecemos todas las oportunidades que tenemos para explicar nuestra historia de Puerto Rico!
La preservación de los Bastiones de Santa Elena y San Agustín, es el primer proyecto de preservación integral que se ha hecho en el parque para proteger los recursos que han estado en peligro desde los tiempos de la colonia española, bajo la administración de National Park Service (NPS). Esta sección de la pared, a través de la historia de las fortificaciones, es una de los más frágiles debido a la erosión sobre los cimientos de la pared. Santa Elena se remonta al siglo 16 y en el sitio en que se encuentra el Bastión de San Agustín, los españoles construyeron la batería San Gabriel, remodelado en la década de 1640 y cambió su nombre a "San Agustín". Ambos bastiones se han sometido a lo largo de sus casi 500 años de existencia, a numerosos cambios, sobre todo para adaptarse a la tecnología militar de la época. Lo único que no cambió hasta el final del siglo 19 fueron los materiales y técnicas de construcción empleadas para edificarlos y mantenerlos.
La pared oeste se construyó originalmente con piedra arenisca y ladrillos, rellenados con escombros. Las caras exteriores de las paredes se revistieron después con una mezcla de mortero hecho de arena y cal. En ciertos casos, y dependiendo de qué parte del sistema de fortificación, la mezcla de mortero de cal puede incluir polvo de ladrillo, sin embargo, en el análisis de material de mortero utilizado para el recubrimiento de las superficies exteriores de la pared del oeste, no se encontró polvo de ladrillo . Esto significa que las paredes, cuando se mantiene por el español retienen un color blanco hueso. Esto significa que en la realización de un mantenimiento regular para las paredes (cada 5-10 años, dependiendo de la sección de la pared), el español hubiera mantenido la pared libre de vegetación y un aspecto limpio o con la apariencia de ser "nueva".
De acuerdo con esta tradición, NPS ha mirado hacia atrás en lo que hizo el español, cómo lo hicieron, y qué materiales se utilizaron. Antes de empezar el proyecto de preservación hicimos una evaluación del estado para asegurarse de que estábamos examinando las condiciones estructurales y estéticas de la pared oeste. Hemos estudiado los efectos de la utilización de materiales como el cemento y cómo han afectado el tejido histórico de las paredes. Nuestros sorprendentes y diestros albañiles han hecho muchas pruebas en maquetas de pared en las que practican la eliminación adecuada de los materiales incompatibles, y su sustitución por materiales tradicionales (históricamente documentados). Hemos probado los productos químicos para la eliminación de la micro-flora, líquenes y otros elementos biológicos para garantizar la eliminación de las fuentes de humedad. Hemos hecho esto para asegurarnos de que antes de que fuéramos a trabajar en la pared, hayamos eliminado o minimizado, cualquier resultado no deseado en cuanto la preservación de la pared.
El parque sabía que las paredes se "verían como nuevas" cuando fuimos hacer este proyecto. Tomamos una decisión culturalmente consciente para ir con la mejor solución para preservar la pared. Una decisión que es consistente con nuestra historia española.
La misión del National Park Service es "conservar el paisaje y los objetos naturales e históricos y la vida salvaje en el mismo y proporcionar para el disfrute de la misma en la forma y por los medios que les dejará intactos para su disfrute de futuras generaciones". En este proyecto, el NPS ha asegurado de que el personal que trabaja en él es insuperable, que las recomendaciones de tratamiento se derivan de condiciones documentadas y una eficacia demostrada, no sólo por la práctica anterior, sino también por la prueba científica. Estamos siguiendo las tradiciones y técnicas utilizadas por nuestros antepasados, pero mezclados y mejoradas por las mejoras tecnológicas del siglo 21. Estamos muy orgullosos de lo que nuestro internacionalmente reconocido equipo de conservación ha hecho y estamos haciendo, para preservar los bastiones de Santa Elena y San Agustín.
Last updated: June 21, 2017