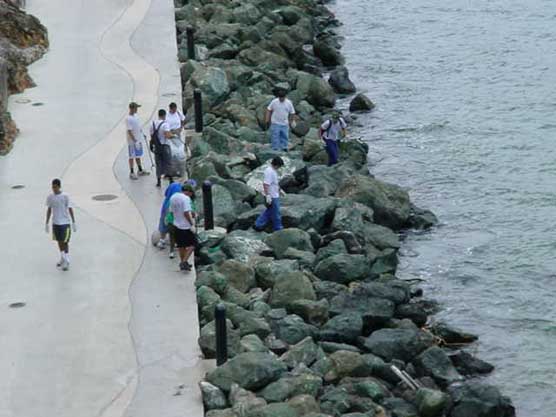 News Release Date:
September 7, 2006
Contact: Jorge Maldonado, 787-729-6777 ext. 233
On Saturday, September 30th, 2006 from 9:00 am through 1:00 pm the National Park Service will celebrate National Public Lands Day. This year, we will be cleaning the beach by Fort San Cristobal. This event is held every year all over the US and its territories. This is the third year in a row that San Juan National Historic Site will he holding the event. Everyone is invited to come to Old San Juan and lend a hand to help preserve this national treasure. Volunteers will get a free pass to come into the park for free for one day. Pass is valid until September of 2007.
For more information and/or to register please call 787-729-6777.
El sabado 30 se septiembre de 9:00 am a 1:00 pm el US National Park Service estara celebrando el Dia Nacional De Tierras Publicas. Estaremos limpiando la playa del Fuerte San Cristobal. Este evento se celebra en todos los Estados Unidos y sus territorios. Este sera el tercer año consecutivo que celebramos el evento en el parque. Estamos invitando al publico en general a que venga a el Viejo San Juan y darnos una mano con la conservacion de este tesoro nacional. Los voluntarios tendran entrada gratis al parque una vez terminado el evento.
Para mas informacion y/o para registrarse, favor de llamar al 787-729-6777.