NATIONAL PUBLIC LANDS DAY CELEBRATION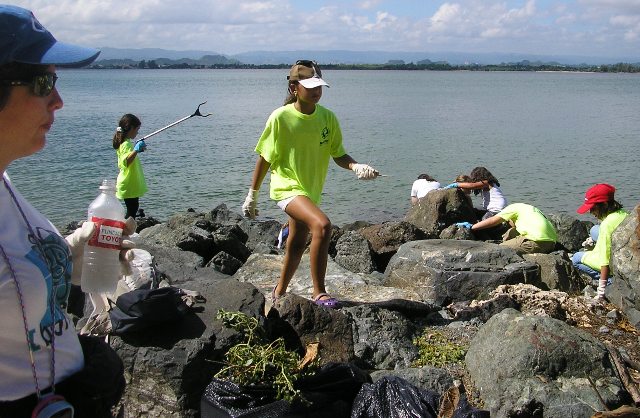 News Release Date:
August 25, 2009
Walk the Paseo del Morro with a mission in mind. Join park staff and volunteers to celebrate National Public Lands Day with a walk along the Paseo del Morro while removing litter that clutters the beauty of the trail and historical San Juan walls, as well jeopardize our shoreline, ocean and wildlife. San Juan National Historic Site will observe National Public Lands Day on Saturday, September 26 from 9:00 am to 12:00 pm.   National Public Lands Day is an enjoyable outdoor volunteer national event for preserving, protecting and enhancing all of our public lands. 
The public is invited to enjoy the fun and pride in cleaning up the Paseo del Morro trail from the San Juan Gate to the entrance of the San Juan Bay and in so doing, protecting our public lands and safeguarding our historical resources. "I encourage the local community to get involved in this year's National Public Lands Day event and help park staff to maintain this beautiful and enjoyable trail here at San Juan National Historic Site," said Superintendent Walter J. Chavez. Those interested should show up at 8:45 am at the San Juan Gate for instructions and be supplied with the necessary cleaning items. Participants are asked to wear working clothes, as well as a hat and sunscreen for the protection of the sun. Volunteers and sponsors may call 787-729-6777 during working hours to sign up or obtain additional information on this National Public Lands Day event. Entrance to the fortifications on that Saturday will be free of charge as part of the event celebration.
The Paseo del Morro is open everyday, is 1.5 miles round trip, and has interpretive waysides for visitors to learn about the history of the walls and the fort. The trail is expected to soon be extended from its present ending at the end of the San Juan Bay to a trail along side the Northern walls of El Morro for providing additional access to the fort.
San Juan National Historic Site is comprised of Castillo San Felipe del Morro, Castillo San Cristóbal, Fort San Juan de La Cruz (El Cañuelo), the San Juan Gate, Paseo del Morro and a major portion of the City Wall. The fortifications are open everyday from 9:00AM to 6:00PM, except Thanksgiving, Christmas and New Years Day. Admission to a fort is $3.00 and $5.00 to both forts for adults (16 and over); children 15 and under are free.
Last updated: April 14, 2015