Date:
April 11, 2011
Contact:
Dilcia Gonzalez
, 787-729-6777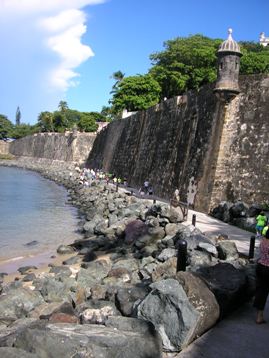 What could be more fun than getting outdoors to enjoy the ocean breeze and unique bay vista while taking a stroll through the Paseo del Morro trail, cleaning up litter and restoring its beauty while helping to safeguard our historical resources! It may even help in meeting your fitness goals. You are therefore invited to participate by volunteering to help park staff in the annual spring clean up to be held on Saturday, April 16 from 9:00 a.m. to 12:00 p.m. The cleanup will take place on the Paseo del Morro trail, starting at the San Juan Gate to the entrance of the San Juan Bay. "Held each spring, the Paseo del Morro litter clean-up represents significant volunteer efforts in preserving San Juan National Historic Site and rekindling pride in the      park," says Superintendent Walter J. Chavez.
The Paseo clean-up, a part of Keep America Beautiful program, initiates the nationwide celebration of National Park Week, April 16-April 24, 2011. Entrance to the fortifications of Castillo San Felipe del Morro and Castillo San Cristóbal is free throughout the week. In addition to waiving entrance fees, the park will offer additional programs as part of the National Park Week festivities. Learn more at www.nps.gov/saju.
Volunteers should meet at 8:45AM at the end of the Paseo del Morro trail for registration guidance. Participants are urged to wear sun protection and to bring along water and snacks. Please join us; bring your family and friends for sharing the fun and taking greater responsibility for safeguarding the park resources.
The Paseo del Morro trail is 1.5 miles round trip, was built in 1999 and declared a National Recreation Trail in 2001. Work is soon to be completed on Phase III construction which will extend the trail from the end of the existing trail along the Northern walls of El Morro providing additional access to Castillo San Felipe del Morro.
All interested volunteers, community groups or sponsors, please call 787-729-6777 to sign up or for additional information on how you can help.
San Juan National Historic Site is comprised of Castillo San Felipe del Morro, Castillo San Cristóbal, Fort San Juan de La Cruz (El Cañuelo), the San Juan Gate, and most of the City Wall. The site is open every day except Thanksgiving, Christmas and New Years Day, from 9:00AM to 6:00PM and until 7:00pm on Tuesdays when the Lelolai Festival is held in the main plaza, San Cristóbal. Admission to San Juan NHS is $3 for adults for one fortification and $5 for both; free for those 15 and under.