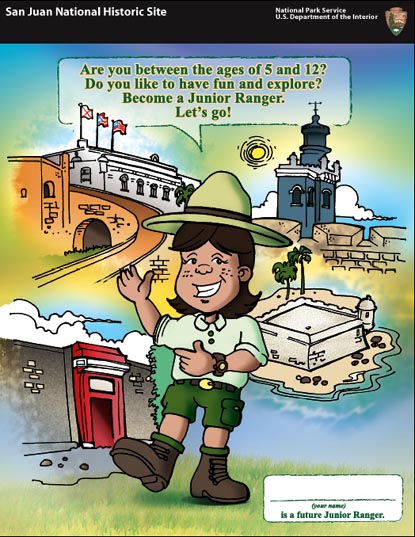 News Release Date:
April 25, 2007
Contact: Kina Gonzalez, 787-729-6777
The Superintendent of San Juan National Historic Site, Walter J. Chavez is happy to announce that the Department of the Interior's Deputy Secretary, Lynn Scarlett will join them for the inauguration of their new Junior Ranger Program.  The event, which also celebrates Junior Ranger Day and National Park Week, will take place on Friday, April 27, 2007 at Castillo San Cristóbal. 
"We are excited to introduce this children's program to the community and schools during National Park Week and encourage families to visit the site to help protect the fortifications of San Juan," said Chavez.  "The theme of National Park Week 2007 is Explore, Learn, Protect and that's exactly what we hope young visitors to the park will do. We are especially fortunate to have Deputy Secretary Scarlett support the new San Juan NHS Junior Ranger book and program with her participation in the inauguration."
The new activity booklet for the program was produced with funding provided by the National Park Foundation, Unilever, and Eastern National.   Support was also provided by the Student Conservation Association and Ocean Spray Cranberries, Inc., a National Corporate Partner of the National Park Foundation.   
Deputy Secretary Scarlett will help celebrate the event by leading a group of local students through an activity in a new junior ranger activity booklet that will be available in English and Spanish.
"San Juan National Historic Site's Junior Ranger program is the primary way that we actively engage young people and their families in the cultural history uniquely found at the Park," said Superintendent Chavez.  "With the generous support of Eastern National and the National Park Foundation will allow us to give any child interested in learning more about the fortifications of San Juan the opportunity to do so."  The booklet contains activities that direct children and their families to areas of the historic site to help them learn about such things as the life of a 16th century Spanish soldier; why Puerto Rico was once called the gateway to the riches of the New World; and how they can volunteer to help protect the fortifications today.  Upon completion, participants receive a signed certificate and a Junior Ranger badge. 
San Juan National Historic Site, is comprised of Castillo San Felipe del Morro, Castillo San Cristóbal, Juan de la Cruz (El Cañuelo), San Juan Gate and a majority of the City Walls surrounding Old San Juan. Admission to San Juan National Historic Site is $3.00 for adults, 16 years and older, and children 15 years and under are free.  A combination pass allows entrance to El Morro and San Cristobal, is valid for seven days and is available for $5.00.  San Juan National Historic Site is open everyday except Thanksgiving, Christmas and New Years Day, from 9:00 a.m. to 6:00 p.m. (December - May) and from 9:00 a.m. to 5:00 p.m. (June – November).
For additional information, please call 787-729-6777.