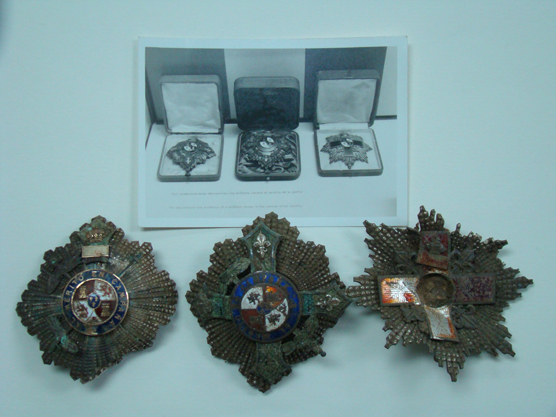 News Release Date:
January 11, 2010
Contact: Dilcia Gonzalez, 787/729-6777 ext 239
We have all heard the popular phrase "when you're not looking for it, you will find it." Precisely, this became true a short time ago to a group of hard working maintenance employees of the San Juan National Historic Site, National Park Service. The employees were removing ground from a shoreline trail of Castillo San Felipe del Morro, in preparation for the new trail extension of the Paseo del Morro, when they found buried three historical medals disappeared for almost 18 years.  In February 1992, the Military Museum, then located in El Morro, was vandalized and a Spanish carbine of 1898, along with the three military medals were stolen.  A month after the museum break in, the carbine was recovered but the medals, in spite of all the investigative efforts, could not be located.
These three military medals were awarded by the Spanish government to Colonel José Antonio de Iriarte y Travieso, commanding official of Castillo San Felipe del Morro, in recognition of merit and valor in combat during the 1898 Spanish-American War. Colonel Iriarte was also the last military governor of El Morro. The medals were donated by the descendants of Colonel Iriarte to the National Park Service in January 1963 to be exhibited in the Military Museum as a legacy to the future generations of P.R.
The three medals represent the following distinctions for Colonel Iriarte: the Cross of María Cristina, for actions in combat given in lieu of a promotion for belic operations in Cuba in 1896; the Cross of María Cristina, for meritorious service during the bombardment to Puerto Rico in 1898; and the Cross of Military Merit, awarded for distinguished action in the war against Cuba.
This surprising discovery by the park's maintenance staff resurge these military relic's enrichment to the historical legacy of PR and testimony to the heroic deeds of Colonel José Antonio de Iriarte y Travieso.  Additionally, Law Enforcement Park Ranger, Freddie Aledo, who back then was assigned to the case, felt rejoiced in finally giving it closure.
All those interested in seeing the historical medals are welcome to visit the Cultural Resources Division, located in Castillo San Cristobal. The Division opens from 8:00 AM to 4:30 PM, Monday through Friday. 
San Juan National Historic Site is comprised of Castillo San Felipe del Morro, Castillo San Cristóbal, Fort Juan de La Cruz (El Cañuelo), the San Juan Gate, and most of the City Wall. El Morro and San Cristobal are open everyday from 9:00 AM to 6:00 PM. Admission to one fort is $3.00 for adults and $5.00 for both; children 15 and under are free.