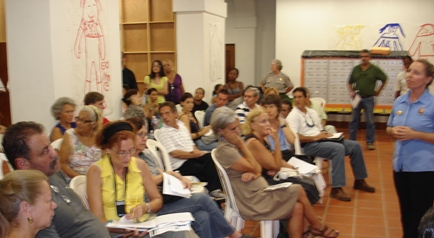 News Release Date:
September 22, 2010
Contact: Dilcia Gonzalez, 787-729-6777
San Juan National Historic Site friend's group, Los Amigos de los Fuertes del Viejo San Juan, obtained a grant last year from the Rivers, Trails and Conservation Assistance (RTCA) program for working collaboratively with Los Amigos, San Juan National Historic Site, local government agencies and local communities for expanding and connecting El Paseo del Morro to additional sections outside the park's jurisdiction. 
 El Paseo del Morro was built in 1999 with funds from the Puerto Rico's Tourism Company through a cooperative agreement between the agency and the NPS. It was originally a dirt trail, along the San Juan bay shoreline to the Castillo San Felipe del Morro, used to perform preservation work on the historic walls and fortification. El Paseo del Morro was designated a National Recreation Trail in May 2001. It is 1.5 miles round trip and has interpretive waysides for visitors to learn about the history of the walls and El Morro. Work being done extending the trail from its present ending will soon provide additional access to El Morro.
Meeting America's Great Outdoors Presidential initiative, the trail will provide for conservation, recreation and connecting people to the outdoors while providing outdoor education opportunities focused on the uniqueness of the Puerto Rican history it links and the communities it unites. Ms. Liz Smith-Incer, RTCA staff member assigned to lead El Paseo del Morro extension project, led an initial series of listening and learning sessions in January for inspiringly introducing key stakeholders to the RTCA and to the project. Participants to these meetings agreed there is a shared vision to create El Paseo del Morro as a connected trail going through various communities and linking our natural and cultural resources. These early meetings resulted in the development of principles which outline a set of shared values that serve to guide the development of El Paseo.  Two additional informational and interactive meetings were held in August to gather input from the San Juan city community members of La Perla, Puerta de Tierra and Old San Juan. A total of 50 plus suggestions were gained from over 100 persons in attendance, to include several drawings from children illustrating their thoughtful ideas on colorful strips of paper. Students of architecture from the University of Puerto Rico were present at the meetings and through a class project will develop a conceptual and final design of the trail based on the attendees' input and additional workshops with the community. This community component engages residents and crafts ideas and solutions from the bottom up. A shared vision of El Paseo del Morro for the portions of the trail within the park will be conceptually sketched by the students and a plan developed to present at the next informational meetings with the community.