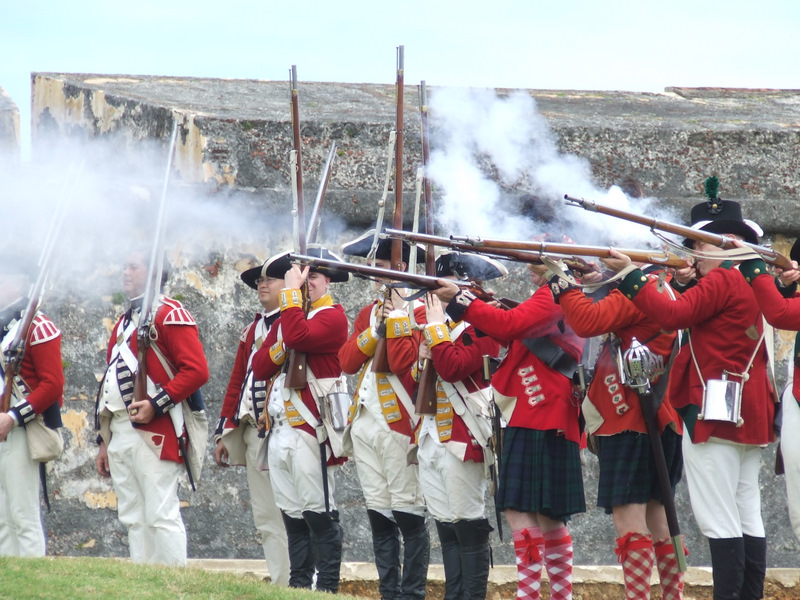 News Release Date:
April 26, 2011
Contact: Dilcia Gonzalez, 787-729-6777 ext 239
San Juan National Historic Site will conduct a series of activities as part of the commemoration of the third and final attempt by British forces to take control of the powerful military Spanish outpost of Puerto Rico. Spanish militia and local defenders protected by the impregnable fortifications of Castillo San Felipe del Morro and Castillo San Cristóbal forced the British attackers to retreat after 13 days of battle.
The commemoration will take place on Friday, April 29 from 2:00pm to 8:30pm on the grounds of El Morro, as well as on Saturday, April 30 from 9:00am to 6:00pm. On Sunday, May 1, activities will be held in San Cristóbal from 10:00am until 2:00pm. Activities will include military drills, musket and artillery firing, cavalry demonstrations, encampment and educational programs. Many local living history volunteers, including park staff portraying Spanish soldiers, and many other reenactors from the U.S., Canada and Europe will help to bring history alive at the fortifications of San Juan National Historic Site.
"This event has become very special for us and our visitors with reenactors, the encampment, and the sounds of musket and cannon fire helping to keep history alive, allowing visitors to experience what took place and learn from it" says Superintendent Walter J. Chavez. The public is invited to enjoy all of the activities in commemoration of this important historical event. All events taking place on the grounds of El Morro are free.
San Juan National Historic Site is comprised of Castillo San Felipe del Morro, Castillo San Cristóbal, Fort San Juan de La Cruz (El Cañuelo), the San Juan Gate, and most of the City Wall. The site is open every day except Thanksgiving, Christmas and New Years Day, from 9:00AM to 6:00PM and until 7:00pm on Tuesdays when the Lelolai Festival is held in the main plaza, San Cristóbal. Admission to San Juan NHS is $3 for adults for one fortification and $5 for both; free for those 15 and under.
For more information, please call (787) 729-6777 ext 239 or visit www.nps.gov/saju for details on commemorative events scheduled for the weekend.