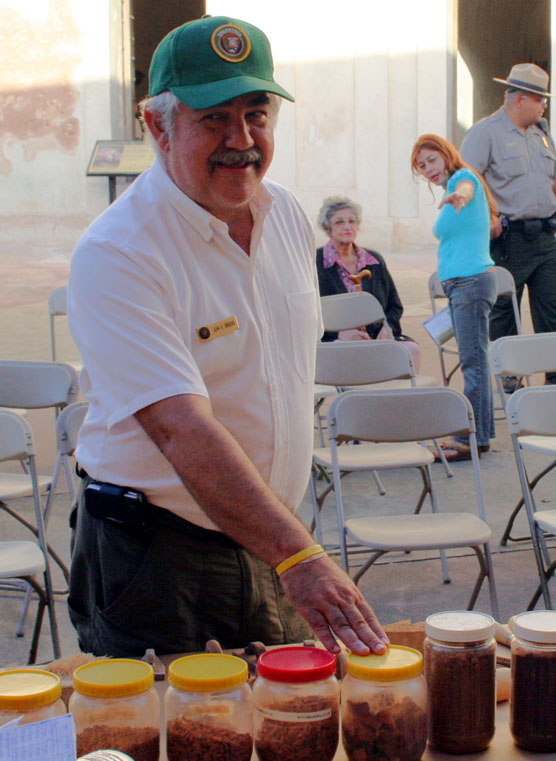 News Release Date:
April 21, 2008
Walter J. Chavez, Superintendent of San Juan National Historic Site, is pleased to announce the celebration of National Volunteer week at San Juan NHS, April 27 to May 3, 2008. "Volunteers help to enhance the visitor experience and operations here at the fortifications of San Juan NHS while gaining new skills and a sense of pride for the work they do" said Superintendent Chavez. "Through the Volunteers in Parks (VIP) Program we are able to offer work opportunities to those that are either looking for new experiences or want to get involved in the preservation of the fortifications", added Chavez.  San Juan National Historic Site will be honoring volunteers for their dedication and commitment to this National Park during the week as well as announcing several new volunteer opportunities. Benefits to volunteering, include but are not limited to, earning school credit, receiving training and work experience, obtaining annual entrance passes as well as obtaining a sense of gratification that is associated with doing volunteer work. "Thanks to our volunteers, in 2007 we were able to maintain wayside exhibits, enhance visitor services and collect 8.5 tons of trash from Paseo del Morro and Fort San Juan de la Cruz", said Superintendent Chavez. The National Park Service VIP program started in 1970, with only a few hundred volunteers. Today, there are over 119,884 volunteers through out the National Park System helping to preserve and protect our natural and cultural resources.
If you are looking for a rewarding experience and an opportunity to gain experience at San Juan National Historic Site please contact this office. We are currently seeking volunteers interested in working as a Park Guide, Administrative Assistant, Custodian, or Graphic Artist. Please contact Kina M. González, Volunteer Coordinator, at 787-729-6777 ext. 259 or kina_gonzalez@nps.gov if you are interested in becoming a volunteer or for more information.
San Juan National Historic Site is open everyday except Thanksgiving, Christmas and New Year's Day, from 9:00 a.m. to 6:00 p.m., (December-May) and from 9:00 a.m. to 5:00 p.m. (June-November). The site includes Castillo San Felipe del Morro, Castillo San Cristóbal, Fort San Juan de La Cruz (El Cañuelo), the San Juan Gate, and most of the walls that surround Old San Juan. Admission is $3.00 per fortification for adults 16 years and older and children 15 years and under are FREE. A combination pass which allows entrance to El Morro and San Cristóbal, valid for seven days, is available for $5.00.