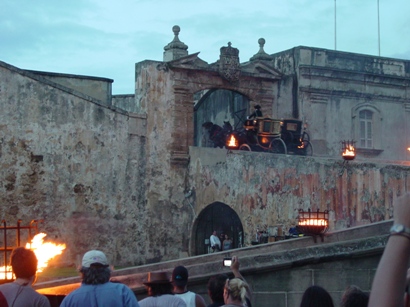 News Release Date:
September 16, 2010
Contact: Dilcia Gonzalez, 787-729-6777
Early morning on September 8, a Walt Disney filming crew began transforming Castillo San Cristobal's historic ramp entrance to set the stage for a scene of "Pirates of the Caribbean: On Stranger Tides," starring Johnny Depp and Penélope Cruz. The historical ramp was chosen by the production group for filming a 17th century carriage, led by two horses, as it was entering the main plaza of the fortification. The ramp, measuring approximately 100 feet long, is part of the original design of the fortification when it was built on a hill called San Cristobal giving the fortification its name. The ramp was then used for facilitating the transportation of equipment, ammunition and supplies to the soldiers. Nowadays, the ramp is one of two visitor entrances to the site. The additional site entrance allowed visitation during filming to continue throughout operating hours. Castillo San Cristobal, a component of the San Juan National Historic Site, was built between 1634 and 1783 as a defense against attack to the city of San Juan by land. It rises 150 feet above sea level and comprises 27 acres. It is the biggest European fortification in the Americas.
A few movie extras, playing minor roles, were seen at the fortification dressed as sailors of the epoch. Depp and Cruz were not at the San Cristobal shooting since they both were filming on the same day at another local site. "Pirates of the Caribbean: On Stranger Tides," is expected to be shown in movie theaters next year in May. We will be looking forward to seeing the fortification in the opening of this movie.