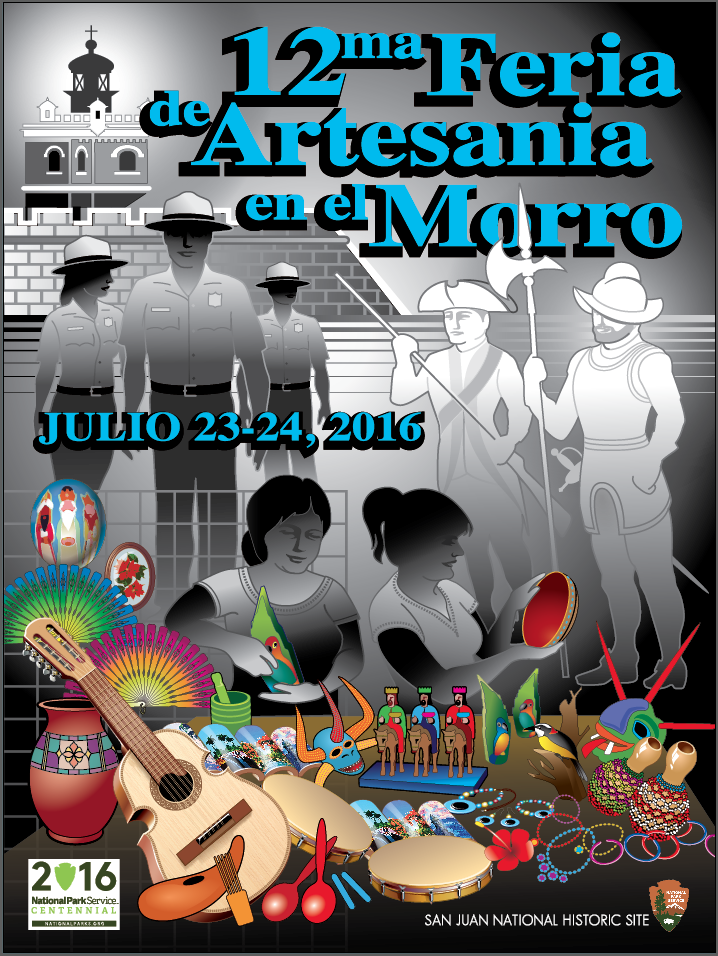 News Release Date:
July 20, 2016
Contact: SAJU Superintendent, 787-729-6777
San Juan, Puerto Rico-Superintendent Walter J. Chavez invites you to come to Castillo San Felipe del Morro and participate in the "12th Annual Artisan Fair at El Morro" on July 23 and 24th, 2016. "Come and enjoy a weekend with local artisans and their crafts. We are expecting close to 200 artisans and this year, our 12th, promises to be our biggest yet and a highlight for the summer" said Superintendent Chavez. The fair will be open from 9 a.m. to 6 p.m. each day and along with the Artisans, will feature park ranger led talks, artisan demonstrations, and typical food and music for your enjoyment.
"Come and spend some time and enjoy the music, ranger led programs and of course the fine crafts from our local Artisans, who come from all over the island. Please come and support our local artisans and enjoy your National Park" added Chavez.
Artisans will be selling their crafts including, metal, paper, leather, glass, wood and others and we will also have demonstration on jewelry, cloth, hammocks, etc. The Park Ranger led programs will talk about the influence in the Puerto Rico art and crafts and their connection with the Spanish Army. Musical groups like Travador Angel Kenty Colón, Batuplena, D'Compadres and Mi Tumbao will be joining us too.
The Artisan Fair will be held on the grounds of Castillo San Felipe del Morro and there is no cost to attend the fair.
To learn more about San Juan National Historic Site and how it works with local communities to help preserve local history, conserve the environment, and educate go to www.nps.gov/saju.
San Juan National Historic Site is comprised of Castillo San Felipe del Morro, Castillo San Cristóbal, Fort San Juan de La Cruz (El Cañuelo), San Juan Gate, and most of the City Wall. The site is open every day from 9:00 a.m. to 6:00 p.m., except on Thanksgiving, Christmas and New Year's Day. Admission to San Juan National Historic Site and its fortifications is $5 for visitors 16 years or more and free for those 15 and under.
********************