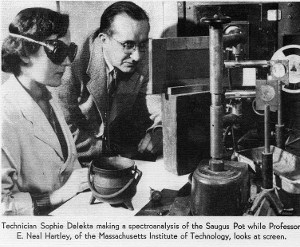 In these pages we present completed reports and sources for more research about Saugus Iron Works so that we may better understand, interpret, and care for the resources we hold in trust for the American public.

We know so much about the people, places, stories, and collections associated with Saugus Iron Works because of the research of dozens of professional historians, archaeologists, archivists, and curators, as well as undergraduate and graduate students in the fields of history, archaeology, art history, American studies, and museum studies, among other fields.
The most important of these scholars was Roland Robbins, the archaeologist responsible for excavating Saugus Iron Works between 1948 and 1953, at a time when few archaeologists were interested in industrial history. He worked with scientists and historians to analyze the metal finds, preserve the wooden timbers, and research the history of the site and the people involved in constructing the Iron Works.
Click here to learn more about archaeology at Saugus Iron Works.

Click here to learn how iron was made at Saugus Iron Works.