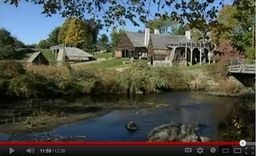 Films
View our official park film, Iron Works on the Saugus. This 12-minute films provides an overview of the creation, operation and historical significance of Saugus Iron Works in the 17th century. Available in Espanol, Deutsch, Français.

View the
Saugus Iron Works Restoration
, a 1950's film documenting the excavation and reconstruction of the site by the American Iron and Steel Institute. A classic.