Date:
April 15, 2015
Contact:
Paul DePrey, 808-266-0826
Contact:
Jonathan Parker
, 978-210-4245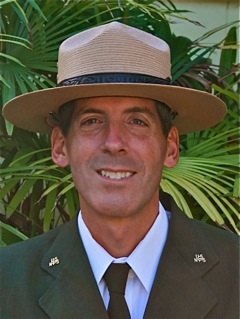 Philadelphia, PA - National Park Service (NPS) Northeast Regional Director Mike Caldwell has selected Paul DePrey as superintendent for Salem Maritime National Historic Site in Salem, Massachusetts and Saugus Iron Works National Historic Site, located in Saugus, Massachusetts. He will also serve as the NPS liaison to the Essex National Heritage Area, an extensive partnership within which both parks are included. DePrey replaces Michael Quijano-West, who was recently named chief of park planning and special studies branch in the NPS's Northeast Region. DePrey will begin his new assignment in June.
"Paul brings a wealth of operational experience with him, but equally important is his dedication to working with partners not only at a park level, but also collaborating on a national level," said Caldwell.  "Paul's skill-set and understanding of the our nonprofit partners makes him uniquely suited to manage these sites where strong, longstanding partners contribute daily to park and heritage area operations."
Since 2008, DePrey has overseen NPS operations in Pearl Harbor at WWII Valor in the Pacific National Monument, the most popular destination in Hawaii. 
"I'm very excited to be joining the staff and partners at these two national park sites. Both sites share stories of the ingenuity and perseverance that are characteristics of our nation. I take seriously the responsibility of bringing this history alive and inspiring our visitors and communities," said DePrey. "I also look forward to working closely with the communities in the Essex National Heritage Area to support strong public connections with the beautiful natural landscapes and tremendous historic places of northeastern Massachusetts."
DePrey's accomplishments at Pearl Harbor included overseeing the construction and dedication of the Pearl Harbor Visitor Center, managing the transition of the NPS mission from the USS Arizona Memorial to the larger WWII Valor in the Pacific National Monument, and the planning for the newly established Honouliuli National Monument. During his time in Hawaii, DePrey worked to improve visitor experiences and historic building preservation through a successful partnership with the Pearl Harbor Historic Sites and the US Navy.
In 2014, in addition to his work with park partners, DePrey served as the co-chair of the National Park Service's Partnership Council, which is comprised of NPS employees and longstanding NPS nonprofit partners. The Partnerships Council provides leadership to help enhance and expand NPS partnerships and to promote new and innovative concepts related to partnerships. 
Before working in Hawaii, DePrey served as chief of natural and cultural resources at Joshua Tree National Park from 2005-2008. He joined the NPS in 2001 as chief of natural resources and fire management at Whiskeytown National Recreation Area in northern California.  
Prior to working for the NPS, DePrey worked for the U.S. Fish and Wildlife Service, the U.S. Forest Service and the USDA Office of the Secretary on interagency natural resource and economic development efforts in the desert southwest and the Pacific Northwest. These assignments included work on rangeland grazing, timber management, Native American government-to-government consultation and threatened and endangered species management. He has also worked as an archaeologist for the U.S. Forest Service on wildland fire timber salvage projects in the Pacific Northwest.
Salem Massachusetts was once one of the most important ports in the nation. The historic buildings, wharves, and replica tall ship at Salem Maritime National Historic Site tell the stories of the sailors, Revolutionary War privateers, and merchants who brought the riches of the Far East to America. With the archeological site of the seventeenth-century iron-making plant, the museum collection, the seventeenth-century Iron Works House, and the reconstructed iron works complex, Saugus Iron Works National Historic Site illustrates the critical role of iron making to seventeenth-century settlement and its legacy in shaping the early history of the nation. The Essex National Heritage Area begins just 10 miles north of Boston and includes hundreds of historical sites, miles of intact landscapes, and a coastal region that chronicles the cultural history throughout Essex County.
DePrey earned his Bachelor of Arts degree from the University of Maine in 1990 and his Master of Arts degree from Western Washington University in 1995. Paul and his wife, Cari Kreshak, and their two young sons plan to relocate to Massachusetts this spring.

* Editor's Note: Paul is available for media inquiries at (808) 266-0826. Please note that there is a six hour time zone difference between Massachusetts and Hawaii at this time of year.

About the National Park Service
More than 20,000 National Park Service employees care for America's 407 national parks and work with communities across the nation to help preserve local history and create close-to-home recreational opportunities. Visit us at www.nps.gov, on Facebook www.facebook.com/nationalparkservice, Twitter www.twitter.com/natlparkservice, and YouTube www.youtube.com/nationalparkservice.
-NPS-