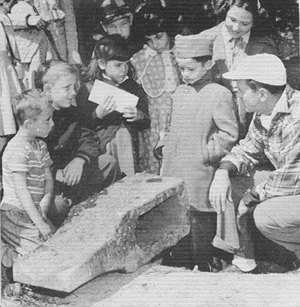 News Release Date:
June 16, 2015
Contact: Emily Murphy, 978-740-1691
Contact: Jonathan Parker, 978-210-4245
Saugus, MA - Saugus Iron Works National Historic Site is pleased to announce a summer lecture series titled,"Saugus in Context." Lectures will be held in the museum auditorium at Saugus Iron Works (244 Central Street) at 7:30pm on Tuesdays beginning June 23. The lectures are free and open to the public –no reservations required.
Inspired by archaeologist Roland Robbins' passion for bringing archaeology to the public, this series of five free lectures will explore the history and archaeology of the Boston and New England area in the context of the rich archaeological history at Saugus Iron Works.
"This lecture series is important and meaningful to both the public and the park," said Dr. Emily Murphy, park historian for Saugus Iron Works, "not only are we continuing the legacy of Roland Robbins and his efforts to involve local residents with archaeology at the Iron Works, but this is the first time the park has worked in cooperation with Boston University's Archaeology Department. BU Archaeology Heritage Management Program student Matthew Flynn produced this lecture series as part of his Master's degree and I am so pleased to have him working with us this summer. "
Archaeologists and historians participating in this lecture series include Laura Masur, doctoral candidate at Boston University speaking on community involvement with archaeology, Dr. Emerson Baker of Salem State speaking on 17th century Maine archaeological sites, Dr. Timothy Orwig of Northeastern University on the Iron Works House and its relationship to the historic preservation movement, and Dr. William Griswold, National Park Service Archaeologist, on the archeology of the Saugus Iron Works.
Attendees will also hear the latest on current local excavations and continuing long term research from historians and archaeologists working with both local and national heritage resources in Massachusetts.
For more information and a complete lecture schedule, please visit www.nps.gov/sair/planyourvisit/lectures.htm , or follow us on facebook: facebook.com/SaugusIronNPS