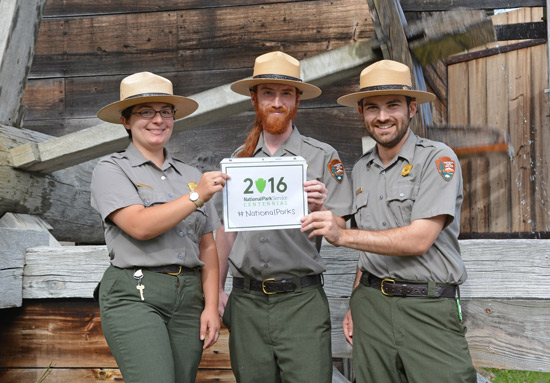 News Release Date:
August 25, 2014
Contact: Jonathan Parker, 978-210-4245
SALEM, MA -
 

This week staff from Salem Maritime and Saugus Iron Works National Historic Sites invite you to join them in celebrating the National Park Service's 98th birthday. Both National Park Service sites are offering free public tours, including Junior Ranger programs and conversations with park rangers about the founding history of the National Park Service.
"Birthdays are a wonderful time to celebrate success and growth," said Superintendent Michael Quijano-West. "Every American is an owner of the National Parks and we're proud to celebrate this milestone alongside our visitors. Over the last ninety-eight years the American people have established hundreds of nationally significant natural and cultural sites - including

 
Salem Maritime
 

(1938) and
Saugus Iron Works
 

National Historic Sites
 

(1968) - in the National Park System. We're glad to be a part of this celebration and we're looking forward to the next 100 years of National Parks in 2016."
There are many ways to join the celebration, including:
Visit

 

a national park. There are 15 national parks in Massachusetts and many of them are closer than you think. There are 401 national parks throughout the country (at least one in every state) and all of them will be free to enter on August 25. Entrance fees will also be waived on

 

September 27

 

for National Public Lands Day and

 

November 11

 

for Veterans Day.
Take part in a special event. From concerts and special tours, to scavenger hunts and birthday cake, parks will be celebrating in different ways across the country, and you're invited. Check the

 

event calendar

 

to find out what's going on near you.
Sign the National Park Foundation's

 

online birthday card

 

for the National Park Service.
Share birthday wishes and your favorite national park moments and memories online using the hashtag #NationalParks.
To find even more ideas and events at national parks near you, visit www.npsbirthday.org.
 

Also today, the National Park Service and the National Park Foundation unveiled a

 
new Centennial logo
, which will help commemorate the National Park Service's 100th anniversary in 2016. As the Centennial approaches, the National Park Service and the National Park Foundation are teaming up with partners to present engaging programs, events, and activities that will support America's national parks.
"Today, we reflect on almost a century of preserving some of the most spectacular and meaningful places for the benefit of all Americans," said National Park Service Director Jonathan B. Jarvis. "As the countdown begins to the National Park Service's Centennial in 2016, we want to introduce a new generation of park visitors and advocates to their national parks. These national treasures collectively tell the story of our country – who we are and what we value as a society."
Want to Celebrate Even More?
Learn more
 

about the National Park Service.
Watch a short video
 

on the National Park Service mission.