News Release
Sagamore Hill Commemorates Quentin Roosevelt and World War I through New Exhibit and Programs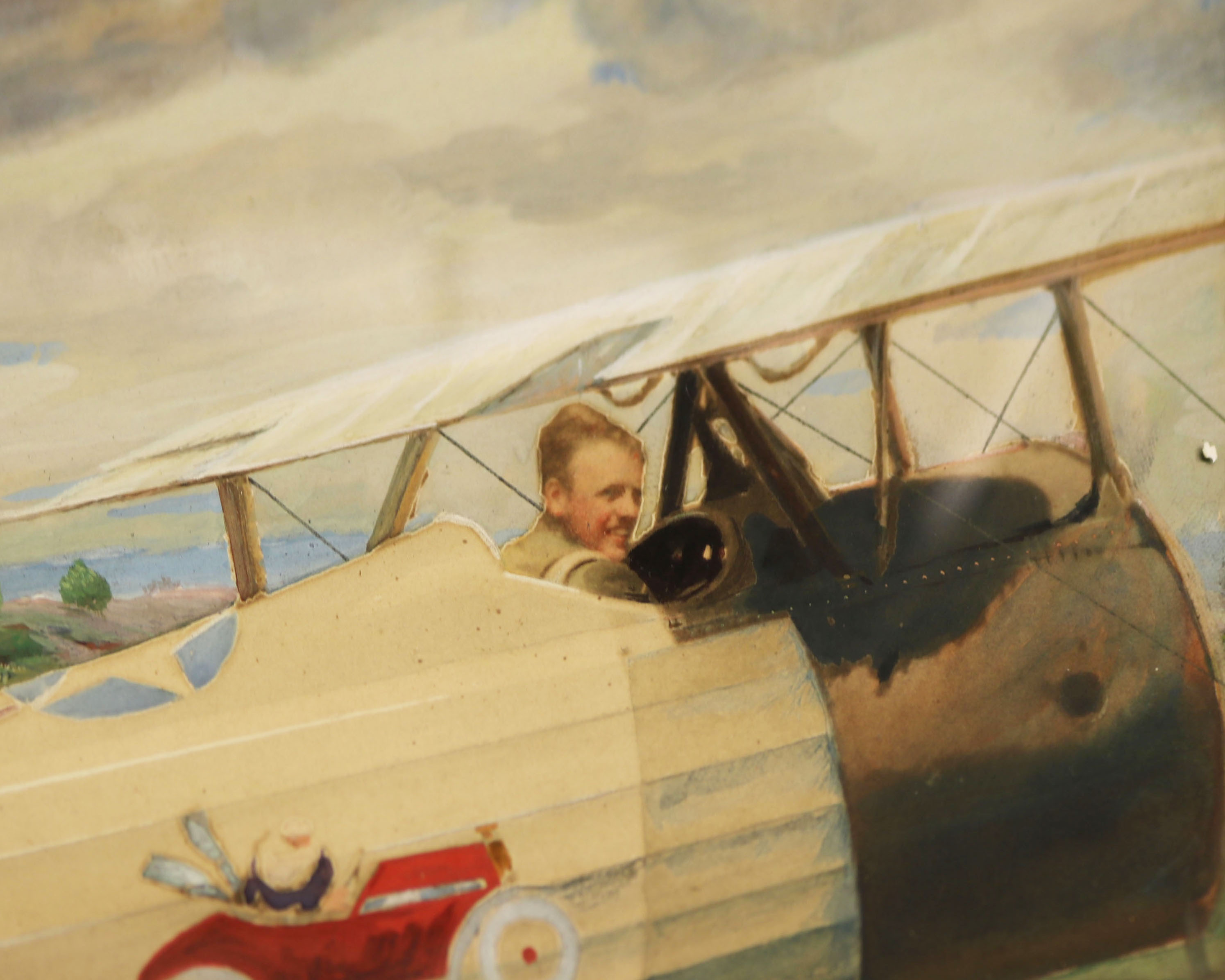 News Release Date:
June 13, 2018
Contact: Joshua Reyes, 516-922-4788
Oyster Bay, NY:
Quentin Roosevelt, Theodore Roosevelt's youngest child, was an aviator who fought in the skies above France during World War I. One hundred years ago, on July 14, 1918, Quentin was killed in action.
This summer, Sagamore Hill will present a temporary museum exhibit at Old Orchard to commemorate the centennial of Quentin's death, as well as a number of special programs throughout the month of July. Visitors can immerse themselves in the sights and sounds of World War I while taking photos with Quentin and his training plane. The exhibit features a film of Quentin leading his squadron in flight and objects, such as Quentin's ID tag and personal effects he was carrying when he was shot down. Highlights also include childhood report cards, rare family photographs, and Quentin's original letters sent home from the line of battle. Visitors are also invited to a series of talks and programs about the Roosevelt family in World War I. See the schedule below for dates and times (some programs require registration on Eventbrite).
Schedule of Events:
The Life of Quentin Roosevelt: Sunday, 7/1 and Sunday, 7/15 at 2PM:
Join a park ranger for a program on Quentin Roosevelt's short life, including his childhood as a member of the "White House Gang," his romance with Flora Payne Whitney, and his military service as a pilot in France.
Independence Day Celebration: Wednesday, 7/4 from 11AM-4PM:
The patriotic all-day event will include demonstrations by Rough Riders reenactors, live music, games and crafts, and speeches on the Roosevelt Home's piazza. Free, first-floor walkthroughs of the Roosevelt Home will be given from 11-4. Satellite parking and a shuttle system will be in effect.
"Divided Between Pride and Anxiety": The Roosevelt Family and the Great War: Friday, 7/6 and Friday, 7/20 at 2PM:
Theodore and Edith Roosevelt proudly sent four sons, one daughter, one son-in-law, and one daughter-in-law overseas during World War I. Join a museum technician for a special program on the Roosevelt family's views on World War I and their contributions to the war effort.
The Roosevelt Family and Their Sacrifices During the First World War: Sunday, 7/8 at 2PM:
Join a park ranger for a talk on the Roosevelt family's varied experiences during wartime and the toll of a conflict that has been largely overshadowed in American history.
An Insider Look at Quentin Roosevelt's Wartime Letters Home: Wednesday, 7/11 and Wednesday, 7/25 at 11AM:
Quentin Roosevelt's wartime letters to his parents give insight to his experiences, joys and fears during the War. Join the curatorial staff at Sagamore Hill for a rare opportunity to meet Quentin Roosevelt through his letters home. Selections from the letters in the Sagamore Hill archives will be made available for public viewing. Limited to 20 people. Registration Required
"My Inner Man": The Personal writings of Quentin Roosevelt: Friday, 7/13 and Friday, 7/27 at 11AM:
Quentin Roosevelt was a prolific writer. His letters, short stories, and school editorials give a glimpse into the young man that endeared himself to the American people. Join us for a rare opportunity to meet Quentin through his childhood poems, school homework, and wartime letters. Limited to 20 people. Registration Required
Quentin Roosevelt Centennial Biplane Flyover: Saturday, July 14 at 10AM (Raindate on 7/15 at 10AM):
To commemorate the 100th anniversary of the death of Quentin Roosevelt in World War I, Sagamore Hill will host an event including a historic biplane flyover of the Roosevelt Home presented by the Bayport Aerodrome Society. The event will also include live period music and a portrayal of World War I era soldiers.
In the Kitchen with the Roosevelts during Wartime: Wednesday, 7/18 at 10:30AM:
Join us for a behind-the-scenes program in the Theodore Roosevelt Home to learn how the family used their farm and kitchen during World War I. Children ages 6 -12 are invited into the historic kitchen to compare contemporary kitchen gadgets with those that the Roosevelt family would have used in the early 20th century. Afterwards, the children will participate in a hands-on activity where they will learn how World War I changed food on the American home front. Limited to 15 children. Registration Required
Theodore Roosevelt and Woodrow Wilson: The Climate of the Country: Thursday, 7/19 at 2PM:
Join a park ranger for a discussion on the political climate of the country leading up to the American involvement in World War I. The presentation will discuss the two 20th century leaders and focus on their debate between preparedness and neutrality.
From the Age of Sail to the Age of Flight: A History of US Navy,1893-1922: Sunday, 7/22 at 2PM:
Join a park ranger for a look at what took the United States Navy from one of the smallest, under-equipped fleets in the world to the largest and most technologically advanced in just 30 years.
The Roosevelt Women and World War I: Thursday, 7/26 at 2PM:
Take a step back in time to discuss World War I, how it impacted women across the globe, and how two of the Roosevelt women, Ethel Roosevelt Derby and Eleanor Alexander Roosevelt, made a difference.
For more information and more summer events, visit Sagamore Hill's website at nps.gov/sagamorehill.
Last updated: June 13, 2018