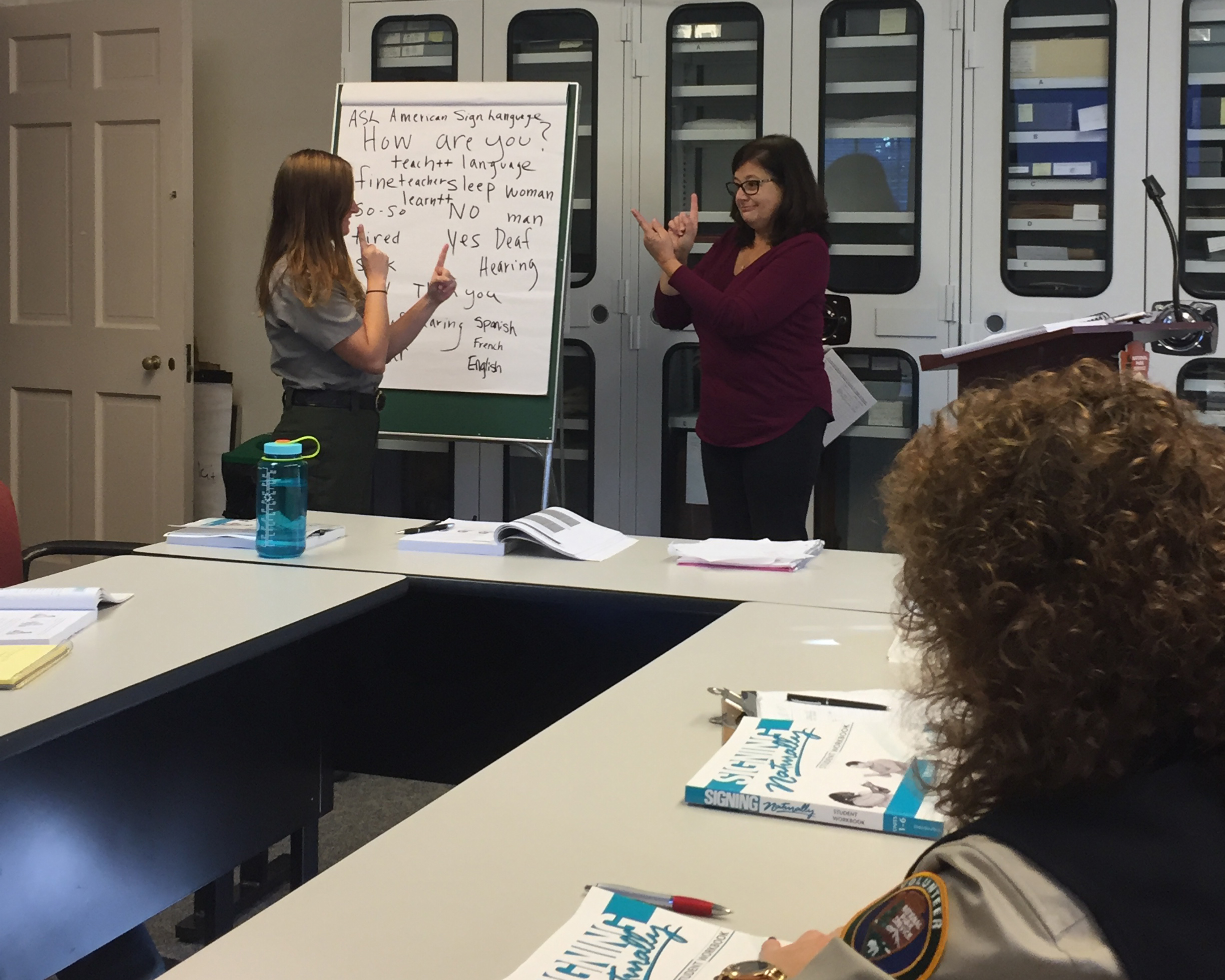 News Release Date:
March 23, 2018
Contact: Joshua Reyes, 516-802-7539
This winter, Sagamore Hill National Historic Site partnered with the 
Mill Neck Manor School for the Deaf
 to increase accessibility for deaf and hard of hearing visitors. Staff and volunteers worked with educator Janice Buonincontri for ten weeks learning the basics of American Sign Language and how to incorporate it into daily operations around the site. 
Sagamore Hill staff learned about deaf culture and how to communicate with deaf individuals as well as make park activities accessible to them. For the last class, staff toured the Theodore Roosevelt home and learned how to incorporate American Sign Language into their tours. With these new skills, Sagamore Hill National Historic Site can offer deaf visitors a valuable experience that they are can participate in. Interpretive services will continue to be available upon request.
Mill Neck Manor School for the Deaf
 is based in Mill Neck, New York. Their mission is:
to collaborate with partners worldwide to mobilize the capabilities, skills and resources of and for the Deaf Community to achieve their human rights to access effective communication, a quality education, vocational training, and spiritual support for living and sustaining independent, productive and meaningful lives.
Through this partnership, Sagamore Hill National Historic Site and Mill Neck Manor School for the Deaf were able to create new learning opportunities within the deaf community.
This opportunity was made possible with funds provided by the Albright-Wirth Grant Program. This program provides training and development courses to National Park Service employees in order to become better researchers, leaders, and educators. Projects funded by this program create opportunities or assist ongoing park initiatives for professional development of employees. This Albright-Wirth program is funded by the National Park Foundation.
Sagamore Hill looks forward to continuing its partnership with Mill Neck in 2018. On Friday April 6th from 10AM-3PM, the
Mill Neck Mobile Audiology Van
will be providing free hearing tests to all interested visitors and staff. Sagamore Hill will also be providing interpreter services for the deaf on upcoming fee-free days. American Sign Language Interpreter services will be provided from10AM-12PM and available on the following dates: April 21st, September 22nd and November 11th.
.