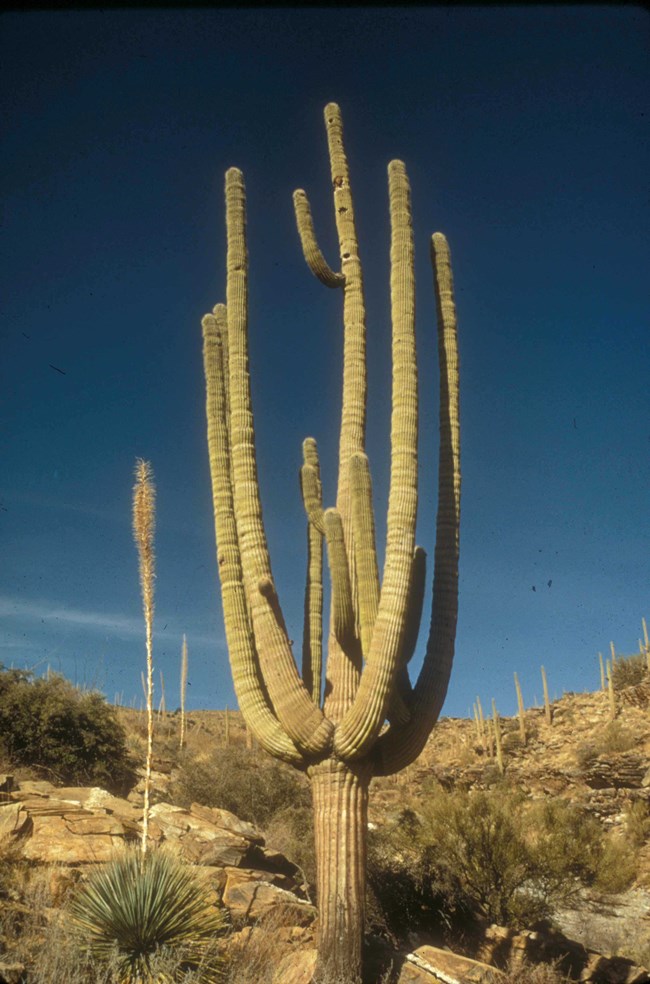 Fees:
The type of pass required is determined by the method that you arrive at Saguaro National Park: $20 per vehicle, $15 per motorcycle, or $10 per person/bicycle. For more information including what passes are accepted and sold at the Rincon Mountain District (East) entrance station and the Tucson Mountain District (West) visitor center, visit our
Fees and Passes
page.
Food & Water:
In effort to support the
Reduce, Reuse, Refill
project, there are no concession stands, snack/soda machines or resturaunts at either park. Water fountains are found at both visitor centers and only there.
Camping/Lodging:
There are campsites available only at Saguaro National Park's East District (Rincon Mountain District). All campsites are backcountry wilderness sites meaning you must hike to each site with all of your supplies. There are no showers or any form of running water.
For more information on camping in the park visit our
Camping
page.
Wifi:
There is no Wifi available at either district.
Cellphone Reception:
Reception is poor at both districts, which can fluctuate depending your specific location. Try to make all necessary communication arrangements before leaving the Tucson city limits, including any transportation services if not arriving in your own method of transportation.
Visitor Centers:
Both districts of Saguaro National Park have their own visitor center that provides restrooms, water fountains, maps, hiking trails, a driving loop, programs, and staff to assit you. There are no hiking trails starting from either visitor center.
For more information about visitor center hours and locations visit our
Basic Information
page.
Programs and Guided Hikes:
Both districts offer several programs including indoor presentations, patio talks, short guided walks, and guided hikes varying in length and topic. Despite similar titles, programs are not the same as the ones offered at the opposite district. To find what programs are being offered during your visit, please visit our
Calendar
page. For a general monthly list of the programs visit our
Guided Programs
page.