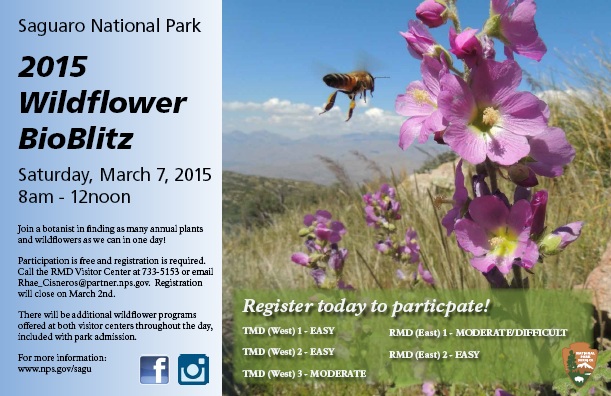 News Release Date:
February 21, 2015
Contact: Rhae Cisneros, (520) 733-8603
Tucson, AZ - Saguaro National Park's Tucson Mountain District (west) and Rincon Mountain District (east) are offering the opportunity for the public to join Tucson botanical experts in performing a species inventory of blooming wildflowers in Saguaro National Park.
The Wildflower mini-Blitz will be held on March 7, from 8 a.m. to 12 noon in both districts. Reservations are required and spots are limited so don't wait- spaces are going fast! The event is free and park entrance fees are waived for all registered participants.
The strong winter rains promise to give us one of the most stunning wildflower seasons in years. Participants will learn to identify wildflower species blooming in Saguaro National Park. In addition, they will have the opportunity to assist botanists by photographing wildflowers, finding flower species not yet recorded and counting the number of flowering plants present along the trail.
There will be 5 botanist-led groups spread across the park's two districts, two in Rincon Mountain District (east) and three in the Tucson Mountain District (west). Participants can choose which hike is best suited to their interests and ability. All hikes will require walking for four hours at a leisurely pace on unpaved paths.
Registration is opening February 21 and will close on March 2. Reservations should be made through calling the Rincon Mountain Visitor Center at 733-5153, between the hours of 9 a.m. and 5 p.m., or e-mail us.
If you are not able to join one of the inventory hikes, there will be wildflower themed programming offered at both Visitor Centers throughout the day, open to the general public included with park admission.
For more information on the March 7th Wildflower events please contact either visitor center or go to our website at www.nps.gov/sagu.