News Release
Saguaro Vandalized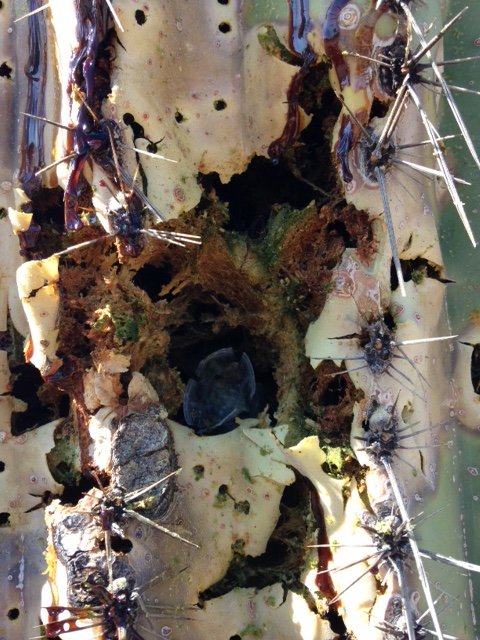 News Release Date:
October 6, 2017
Contact: Ray O'Neil, 520 733 5110
Contact: Andy L. Fisher, 520 733 5139
Saguaro National Park Seeks Community Assistance
for Vandalism Incident in Tucson Mountain District
Tucson, AZ – Saguaro National Park is seeking the public's assistance in connection with a vandalism incident. On Wednesday October 4, a park science crew working in the west district discovered a saguaro cactus which appeared to have been shot multiple times with a shotgun.
"There was significant damage to the main stem and one of the branches on the large and mature saguaro," according to Chief Ranger O'Neil. "It is too soon to tell, but we are expecting that the damage is lethal for this old sentinel in the Sonoran Desert."
The injured saguaro is estimated to be 100 to 150 years old, which means it was a seedling before Arizona became a state.
Near the cactus, the science crew observed shotgun casings on the ground and it appears that the saguaro may have been shot up to 14 times. The damaged saguaro cactus is located north of the Golden Gate Road just off of Sandario Road. Scientists believe the damage occurred at least one week ago, possibly within the last four weeks. The shells have been collected for evidence and have been sent for forensic testing.
NPS Law Enforcement Rangers are requesting the community's help to gather additional information related to this incident of vandalism. Anyone with information regarding this or other illegal activity in Saguaro National Park is encouraged to contact the National Park Service Investigative Service Tipline at 1-888-653-0009. Callers may remain anonymous.
"National Parks belong to all of us," according to Chief Ranger Ray O'Neil. "We take all incidents of damage to park resources very seriously. These incidents are investigated and individuals found to be involved will be held responsible". Penalties for damaging park resources and discharging a firearm within park boundaries may include a fine up to $5000 or six months in jail.
Last updated: October 6, 2017