Kinney Road Construction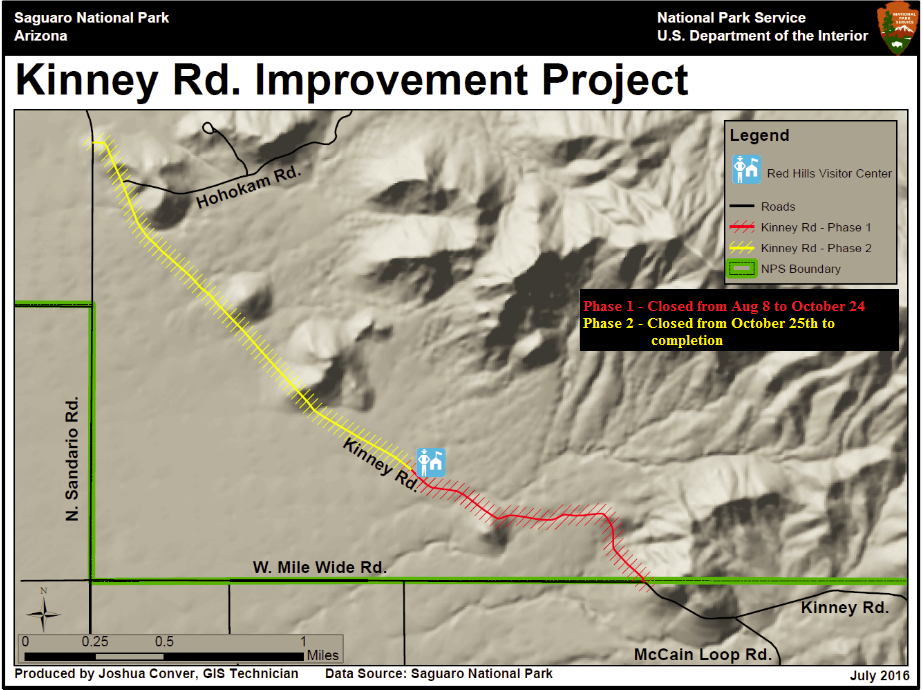 News Release Date:
July 25, 2016
Contact: Facility Manager Jeremy Curtis, 520-733-5140
Tucson, AZ–Saguaro National Park and the Federal Highway Administration are preparing to begin a project to rehabilitate and resurface Kinney Road withinthe park's west Tucson Mountain District. The project will be complete by December 1st, 2016.  Visitors should expect some limited road closures, detours, and minor traffic delays en route to the Red Hills Visitor Center, which will remain open throughout the project. 
"This project will improve the surface of Kinney Road and safety for all of those who travel on the road," according to Superintendent Darla Sidles.The project was purposefully scheduled the project to avoid peak visitor use season when traffic is heaviest. Sidles continued, "we recognize the temporary inconvenience that the project will cause to local residents and park visitors alike and we appreciate everyone's patience as we make it safer for all who travel along these roads.
Closures associated with the road work will occur in two phases. Phase one will begin on August 8th closing Kinney Road in both directions from Mile Wide Road to the visitor center. Phase two will begin approximately September 15th and the completed section of Kinney Road will reopen, while the north section will close from Sandario Road to the visitor center. 
The detour around the closed sections of road will be along Sandario and Mile Wide roads.
For more information about the closures associated with this project, contact Facility Manager Jeremy Curtis, 520 733-5140.
Last updated: October 20, 2016