Fire Updates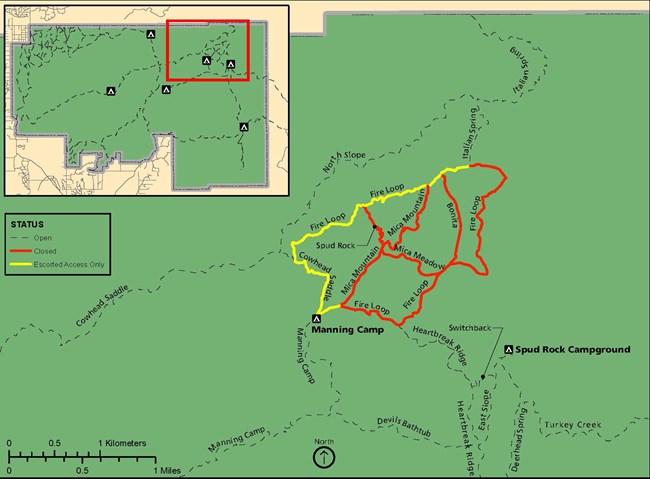 Saguaro National Park Plans Prescribed Fire in Rincon Mountains
Fire managers at Saguaro National Park plan to conduct a prescribed burn on Mica Mountain in the Saguaro Wilderness of the Rincon Mountain District (Saguaro East) starting on May 14, 2019.
The Mica Bowl Prescribed Burn area is divided into several burn units. Up to 541 acres may be treated with prescribed fire. Ignitions may continue for approximately two - three days. Fire managers will only conduct the prescribed burn when environmental factors such as wind, temperature, and relative humidity are favorable.
The following backcountry trails will be closed during prescribed burn operations: Bonita, Spud Rock, Mica Mountain, Mica Meadow, Fire Loop/Heartbreak Ridge (between the junctions of Mica Mountain (south) and Italian Spring), and the Arizona Trail / Fire Loop (between the junctions of Cowhead Saddle and Italian Spring and Cowhead Saddle to Manning Camp). Arizona Trail hikers should plan for temporary delays, however fire managers will escort Arizona Trail hikers through the Arizona Trail / Fire Loop (between the junctions of Cowhead Saddle and Italian Springs and Cowhead Saddle to Manning Camp) when it is safe to do so.
Availability at the backcountry Manning Camp campground will be limited during the prescribed burn.
Due to the location of the burn on the highest peak of the Rincon Mountains, smoke will be visible from Tucson, Redington Pass, Benson, Mescal, and Happy Valley during the prescribed burn. Smoke may temporarily drift downhill overnight in the Redington Pass, Rincon Creek, and San Pedro River Valley drainages.
Smoke is expected to be present on backcountry trails within the vicinity of Mica Mountain for at least a week or until significant precipitation occurs. Backcountry campers could experience light to moderate smoke with greater concentration for those camping at Manning Camp and Spud Rock campgrounds especially during the early morning hours for two to five days following the completion of prescribed fire ignitions.
Vegetation in the area is predominately ponderosa pine. Elevation in the area ranges from approximately 7,950 to 8,670 feet.
Lightning-ignited fires have historically burned through the high elevation ponderosa pine forests of southeastern Arizona, but past fire suppression has created unnatural conditions with build-ups of downed trees and dense underbrush in many places. Fire managers use low to moderate intensity prescribed fires to maintain healthy forests in the Rincon Mountains and to prevent large intense wildfires.
Fire Information
Arizona Fire Information
Southwest Coordination Center Fire Information (Saguaro National Park = AZ-SAP)
Maps
Maps & Wildland Fire Data in Google Earth
National Fire Information
NPS Fire and Aviation Facebook page
NPS Fire and Aviation on Twitter

Wildfire Prevention
Campfires are only permitted in established fire rings in designated wilderness campsites, government provided grills, or self-contained grills or stoves in designated picnic areas and campgrounds. (No government-provided grills are present at Douglas Springs and Grass Shack campgrounds; fires are prohibited at these locations.) No other fires are allowed in either district.
Dead wood on the ground may only be collected for use as fuel for campfires within the park in the following areas: within ½ mile of Manning Camp, Spud Rock, Juniper Basin and Happy Valley wilderness campgrounds.
Fires must never be left unattended and must be completely extinguished upon departure.If it's too hot to touch, it's too hot to leave! Stir, drown, and repeat until cold.
If you smoke, please practice Leave No Trace principles by packing out cigarette butts.
Use and possession of fireworks if prohibited year-round.
Tips for Enjoying the Outdoors Safely During Fire Season
One Less Spark Means One Less Wildfire
Last updated: May 13, 2019