Volunteer
Volunteering at Saguaro National Park
Volunteers at Saguaro National Park perform many of the functions that allow visitors to enjoy the park as well as many behind-the-scenes functions that are essential to maintaining the long term health of the park's resources.
Volunteer duties have included; staffing the visitor centers, leading nature hikes, presenting environmental education programs to school and community groups, conducting "Junior Ranger" programs and day camps, assisting biologists with research projects, pulling non-native weeds, day-to-day maintenance functions, trail building and maintenance, and patrolling trails on foot and horseback.
Saguaro National Park does not have RV or trailer site campgrounds. Volunteer hours can not be exchanged as payment for overnight backcountry passes.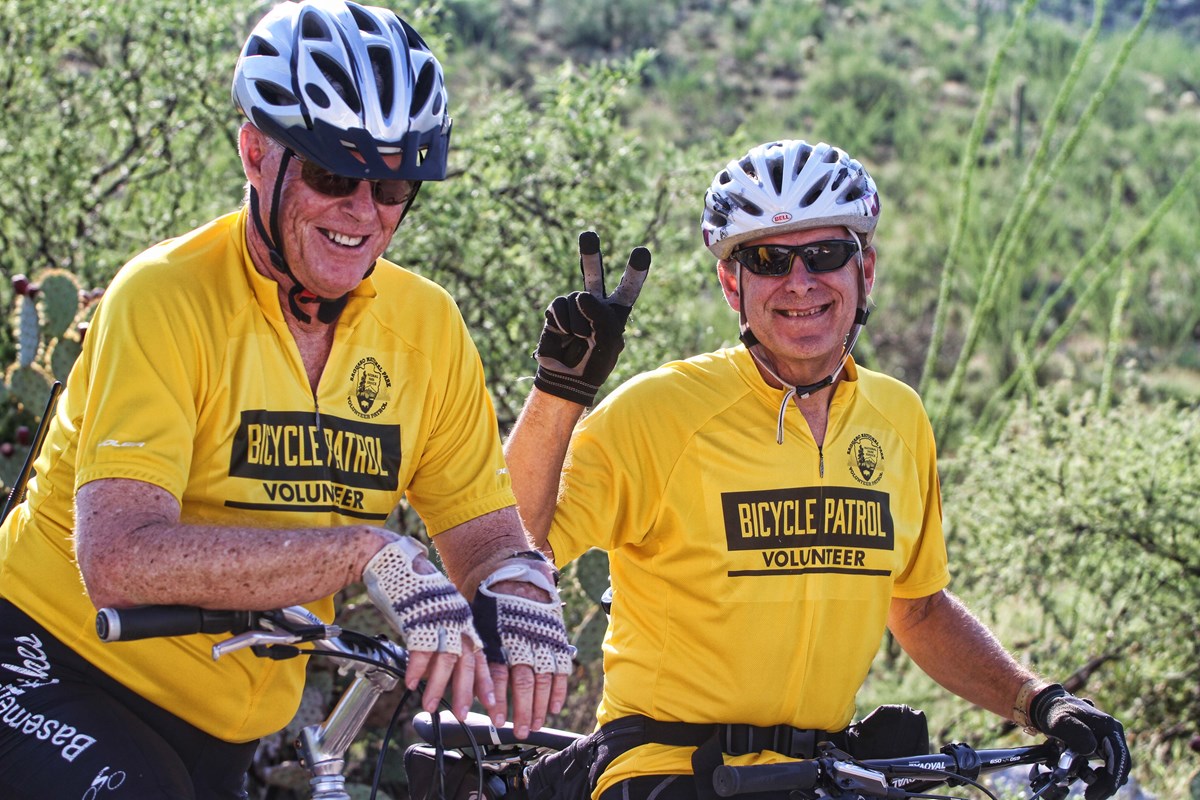 Volunteer Opportunities at Saguaro National Park
*Please note that all positions may not be available at all times; contact the appropriate supervisor for further volunteer position inquires.
Division
Volunteer Positions
Duties
Contact
Trails

1) Group events




2) Drop-in events




3) Adopt-A-Trail Program

Brushing the trail corridor, adhere to park's trail standards.




*Requires ability to hike, use of and care for hand tools, and to work Safely and in a group.





We offer a variety of ways to work with us.




1 If you want to volunteer as a group or organization inquire about our group event options




2 Curious about trail work and want to get involved? Email us about our drop-in events.




3 Long term Volunteers ask about the Adopt-A-Trail Program

Saguaro Trails Team

sagu_trail_volunteers@nps.gov

Maintenance
1) Trash Collection
2) Maintenance
i. Help clean up litter on the highly-traveled roads along the park borders during pick-up events
ii. Aid in day-to-day maintenance duties around the park
Jeremy Curtis
Jeremy_curtis@nps.gov

Dan Green Daniel_green@nps.gov
Environmental Education
1) Curriculum-based Program
2) Experiental-based Program
3) Other School-based Programs
i. Preparing and facilitating K-12 environmental ed. activities for park field trips and at schools
ii. Planning and leading hikes (day/night), family picnics, 3-day Wilderness Camps, Jr. Ranger Camps, camping trips (in/out of the park), and backpacking trips
iii. Leading STEM/Science night activities, participate in Love of Reading Week events, judging science fairs, and other enrichment programs
Chip Littlefield
Chip_littlefield@nps.gov
Interpretation
1) Visitor Center
2) Guide Hikes & Trails
3) Assist with Park Programming
i. Helping visitors find the information they need for their trip in the park, sell gift store merchandise
ii. Provide interactive learning opportunities to guests while guiding hikes and talks
iii. Help interpretive staff create and improve programming for park visitors
Richard Hill (TMD)
Richard_hill@nps.gov
Melanie Florez (RMD)
Melanie_florez@nps.gov
Resource Management
1) Data Entry
2) Buffelgrass
3) Weed-Free Trails
i. Help enter data from research into spreadsheets
ii. Second Saturday of every month September-May help remove invasive buffelgrass
iii. Help keep the park's trail network free of invasive plants
Invasive Plant Team
SAGU_invasive@nps.gov
Outreach
1) Outreach
i. Raise awareness of Saguaro National Park within the local community through non-curriculum based school programs, tabling at community events and thorugh various partnerships by bringing the park to the public
ii. Help with "In-Park" events and programs
Cam Juarez
Cam_juarez@nps.gov
Fees/Admin
1) Fee Booth
i. Sell park entrance fee/passes and receipts, give visitors needed information and answer basic park questions from visitors, verify and process shift reports for deposit, and provide relief for booth staff as needed in both districts
Mark Abetz
mark_abetz@nps.gov
Law Enforcement
1) Hiking Patrol
2) Bike Patrol
i. Be a courteous and friendly point of contact for visitors while promoting safe and respectful use of park resources
ii. Provide assistance to Protection Rangers in response to visitors needs (i.e. giving out park information, providing basic first aid, advising visttors of regulatuions, etc.)
John Vonk
John_vonk@nps.gov
­
Currently Available Volunteer Positions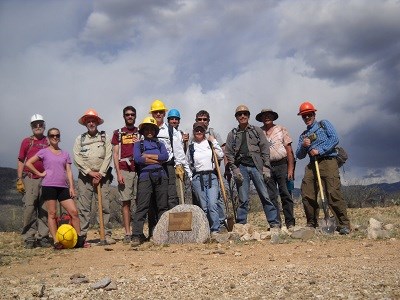 Trail Building and Maintenance Volunteers
Volunteers are needed to assist with trail building and maintenance activities at the Rincon Mountain District (East) of Saguaro National Park. Volunteers will work alongside park staff, acquiring and utilizing the skills needed to perform all aspects of trail maintenance and construction. Minimum time commitment is 8 hours a month, from October through April; summer hours to be determined. Please see Volunteer Job Description for more information.
­
­Job Description, Trail Building and Maintenance Volunteer (Saguaro National Park - East)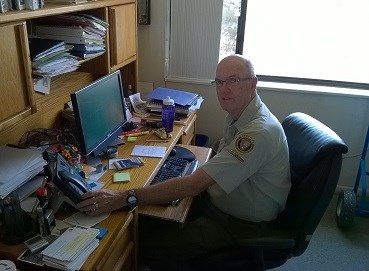 Administration & Fee Management Volunteer
Volunteer needed to fill a part-time (2-3 days per week) position. Volunteer would serve as an Administrative Assistant and Fee Operations Assistant for Saguaro National Park. This position will be located at the Rincon Mountain District (East) and may include occasional duties in the Tucson Mountain District (West). Work schedule would vary Monday-Friday depending on needs of the operations. Duties include but not limited to assisting Administrative staff by processing and receiving park mail and packages, maintaining park files and assisting Fee staff by answering basic park questions from visitors, selling entrance passes and receipts and verifying and processing shift reports for deposit. For a more detailed job description clink on the link below.
Interested individuals should submit a volunteer application along with their most current resume with two (2) current professional references to e-mail us or drop application off at the Rincon Mountain Visitor Center. If you have any questions about this volunteer opportunity or its requirements, please call the park Administrative Officer at (520) 733-5104 or Fee Management Office at (520) 733-5121.
Job Description, Administration & Fee Management Volunteer (Saguaro National Park - East)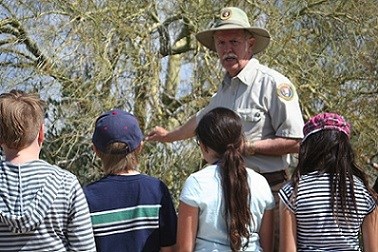 Environmental Education Volunteers
Volunteers are needed to assist with environmental education programs at both the Rincon Mountain (East) and the Tucson Mountain (West) Districts of Saguaro National Park. Volunteers work with local school groups, leading field trips at the park and presenting programs in the classroom. Typical time commitment is 4 - 5 hours per week, October - April. Formal training is provided in the fall each year and job shadowing takes place during the first few weeks as a new volunteer.

Job Description, Environmental Education Volunteer (Saguaro National Park - East)
Job Description, Environmental Education Volunteer (Saguaro National Park - West)

Last updated: November 25, 2019