Volunteer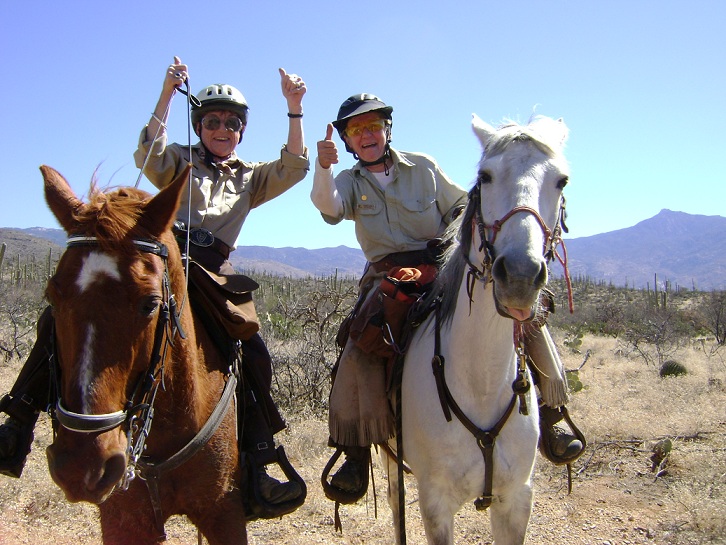 Volunteering at Saguaro National Park
Volunteers at Saguaro National Park perform many of the functions that allow visitors to enjoy the park as well as many behind-the-scenes functions that are essential to maintaining the long term health of the park's resources.
Volunteer duties have included; staffing the visitor centers, leading nature hikes, presenting environmental education programs to school and community groups, conducting "Junior Ranger" programs and day camps, assisting biologists with research projects, pulling non-native weeds, day-to-day maintenance functions, trail building and maintenance, and patrolling trails on foot and horseback.
Current volunteer job descriptions are listed below. Click on a title for full details. If you see a job that matches your interests, skills, and availability, please contact the supervisor directly. They may ask you to submit an application, which can also be found below.
Saguaro National Park does not have RV or trailer site campgrounds. Volunteer hours can not be exchanged as payment for overnight backcountry passes.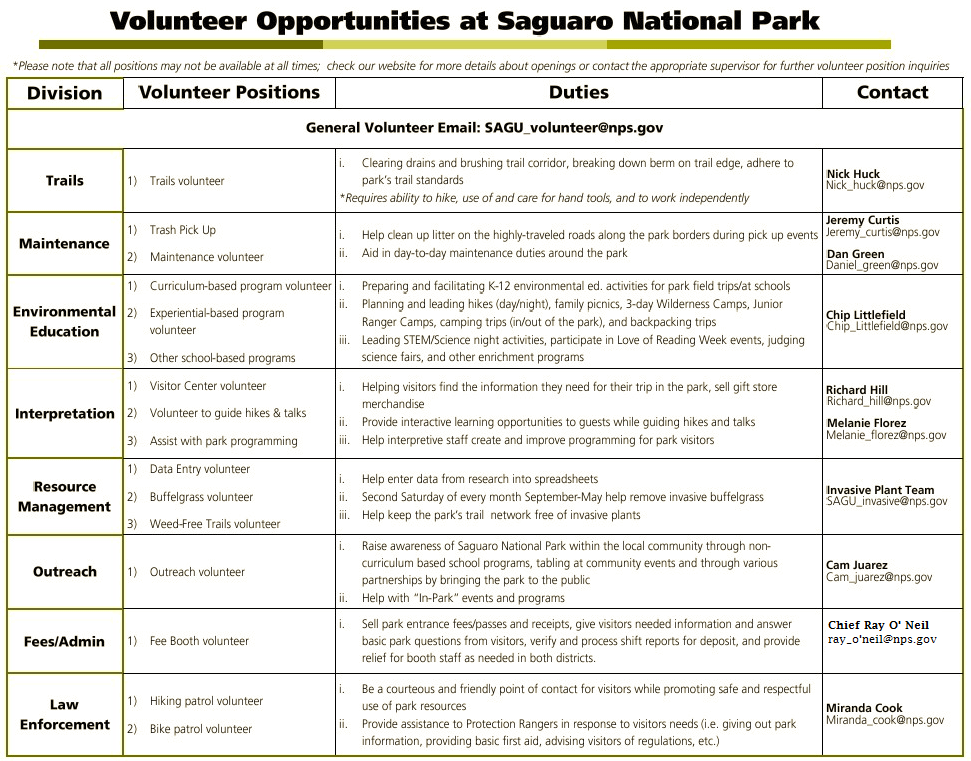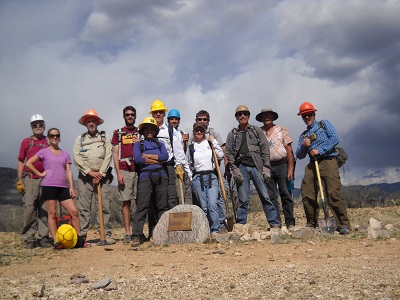 Trail Building and Maintenance Volunteers
Volunteers are needed to assist with trail building and maintenance activities at the Rincon Mountain District (East) of Saguaro National Park. Volunteers will work alongside park staff, acquiring and utilizing the skills needed to perform all aspects of trail maintenance and construction. Minimum time commitment is 8 hours a month, from October through April; summer hours to be determined. Please see Volunteer Job Description for more information.
­
­Job Description, Trail Building and Maintenance Volunteer (Saguaro National Park - East)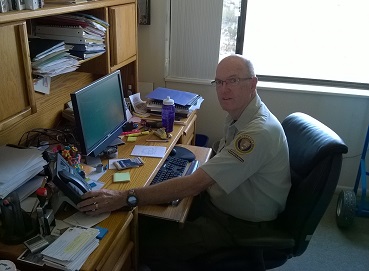 Administration & Fee Management Volunteer
Volunteer needed to fill a part-time (2-3 days per week) position. Volunteer would serve as an Administrative Assistant and Fee Operations Assistant for Saguaro National Park. This position will be located at the Rincon Mountain District (East) and may include occasional duties in the Tucson Mountain District (West). Work schedule would vary Monday-Friday depending on needs of the operations. Duties include but not limited to assisting Administrative staff by processing and receiving park mail and packages, maintaining park files and assisting Fee staff by answering basic park questions from visitors, selling entrance passes and receipts and verifying and processing shift reports for deposit. For a more detailed job description clink on the link below.
Interested individuals should submit a volunteer application along with their most current resume with two (2) current professional references to e-mail us or drop application off at the Rincon Mountain Visitor Center. If you have any questions about this volunteer opportunity or its requirements, please call the park Administrative Officer at (520) 733-5104 or Fee Management Office at (520) 733-5121.
Job Description, Administration & Fee Management Volunteer (Saguaro National Park - East)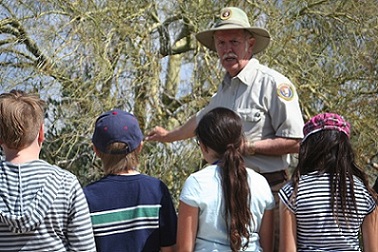 Environmental Education Volunteers
Volunteers are needed to assist with environmental education programs at both the Rincon Mountain (East) and the Tucson Mountain (West) Districts of Saguaro National Park. Volunteers work with local school groups, leading field trips at the park and presenting programs in the classroom. Typical time commitment is 4 - 5 hours per week, October - April. Formal training is provided in the fall each year and job shadowing takes place during the first few weeks as a new volunteer.

Job Description, Environmental Education Volunteer (Saguaro National Park - East)
Job Description, Environmental Education Volunteer (Saguaro National Park - West)

Last updated: October 22, 2016