Sculptor-in-Residence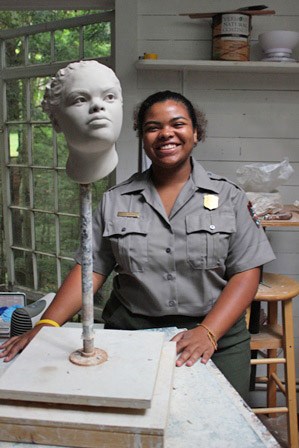 Saint-Gaudens National Historical Park hosts the oldest artist residency program in the National Park Service. Begun in 1969 by the park's partner, the Saint-Gaudens Memorial, the position plays an important role in the park's interpretive programs.
The sculptor-in-residence program is open to figurative sculptors who spend the open season from June-October working on their art and interacting with park visitors. The artist works in the historic Ravine Studio, located at the forest edge overlooking Blow-Me-Up Ravine.
During the season, the sculptor also conducts a series of sculpture workshops, teaching the basics of figurative sculpture, mold making and casting which are listed below.
Zoe Dufour - 2020 Sculptor in Residence

Introducing Zoe Dufour - Meet Zoe virtually on YouTube!
Zoe Dufour is the 2020 sculptor-in-residence at Saint-Gaudens NHP. She is a figurative sculptor who primarily creates portraits. Due to COVID19, Zoe's residency will be virtual, but there are lots of opportunities to connect with her! Throughout the 2020 season, you can join a live-stream with Zoe in her studio Wednesdays, Thursdays, Fridays and Sundays from 12-1PM here . Additionally, Zoe will lead remote workshops (see workshop schedule below) and host interviews with other sculptors that will then be recorded and shared virtually throughout this season.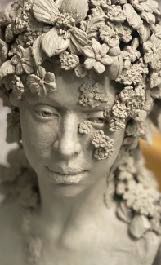 Sculpture Workshop Classes @ Saint-Gaudens NHP
2020 Sculptor-in-Residence, Zoe Dufour - Instructor
Times: All classes will be held on SATURDAYS from 1:00-3:30 (dates listed below).
Location: Classes will be held via Zoom or Webex. Participants will need a smartphone, tablet, or computer with camera to participate.
Fees: listed below and payable online when registering.

To Register: Email jamie_patton@nps.gov with your full name, email address, phone number and any questions you may have. Jamie will provide the link to pay.
Each workshop limited to eleven participants at this time. *Materials are not included; instructor will send link to suggested outlets for clay/tool purchases.
♦ Simple Still-life Drawing: Saturday, September 12th,
1:00-3:30
Fee: $20
In this class we will set up and draw a simple still life. We will pick two to three simple objects from around the home that are meaningful to the participants, or compose a small narrative, and use these to create our still-life scenes. We will discuss basic compositional design and how to take comparative measurement in drawing to accurately render our still-lifes. Students will also learn how to effectively group light and shadow to create convincing depth in our drawings. The class will be held via Zoom, and participants will need a smartphone, tablet, or computer with camera to participate. The students will need to bring pencil (recommended B, HB, and 2H lead, but any pencil will do!), paper, and 2-3 household objects or knickknacks.
♦ Sprig-Mold Clay Workshop, Two-Part Series: Saturdays, September 19th & September 26th, 1:00-3:30
Fee: $60
Introduction to sprig molds: In this two session class we will be making small sprig molds based off of small decorative clay sculpts the students themselves create! Sprig molds are a wonderful tool when creating thin repetitious forms for sculpture. The floral decorations on the sculpture below were all created with the use of sprig molds. In the first session, students will sculpt the designs for their sprigs molds while we discuss how to make forms that will release easily from the mold, and be successful in ceramic production. In the second class, we will create our sprig mold, learning basic techniques for working with plaster including controlling the plaster's viscosity. We will cover how to eliminate air-bubbles from the mold's surface and safe material management. Students will end the course with their own sprig molds, ready to use on future projects. Materials are not included. Students will need: - 1-3 lb of plaster of paris or pottery plaster - a dust mask - 3 clean 1 quart buckets (or similar plastic tupperware is a good alternative) - tools for modeling their clay sprig designs - soft paint brush - a small tray or box.
Last updated: August 24, 2020