Sculptor-in-Residence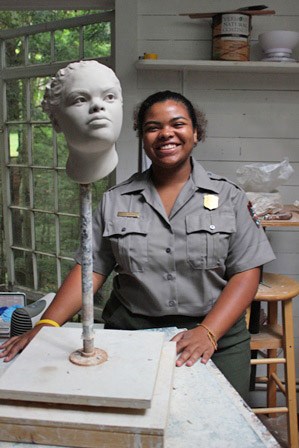 Saint-Gaudens National Historic Site hosts the oldest artist residency program in the National Park Service. Begun in 1969 by the park's cooperating association, the Saint-Gaudens Memorial, the position plays an important role in the park's interpretive programs.
The sculptor-in-residence program is open to figurative sculptors who spend the open season from June-October working on their art and interacting with park visitors. The artist works in the historic Ravine Studio, located at the forest edge overlooking Blow-Me-Up Ravine.
Park visitors are able to interact with the sculptor, asking questions and thus learning about how Saint-Gaudens created the artwork they see at the site.
During the season, the sculptor also conducts a series of sculpture workshops, teaching the basics of figurative sculpture, mold making and casting.

Saint-Gaudens National Historic Site and Weir Farm National Historic Site recently initiated a project to better understand the current status and opportunities of the National Park Service Artist-in-Residence programs. As the only two National Park Service site dedicated to visual artists, both with active Artist-in-Residence (A-I-R) programs, we often find ourselves being consulted by other parks and offices in and outside the agency as sources of current A-I-R program information. The report on artist residency programs in the National Park Service was released in 2009, and is available in a pdf format.
Dan Willig - 2019 Sculptor in Residence
Dan Willig is the 2019 Sculptor in Residence at Saint-Gaudens NHS. He is a representational figurative sculptor. Learn about his sculptural process from clay to bronze. Dan will be at the Saint-Gaudens NHS through late September (participating in Sculptural Visions on 9/28) and will be working and demonstrating in the Ravine Studio as follows: Fridays: 9-4:30, Saturdays: 9-12, Sundays: 9-4:30. ►Read the Press Release
Sculpture Workshop Classes @ Saint-Gaudens NHS
2019 Sculptor-in-Residence, Dan Willig - Instructor
• Times:
All classes will be held on
SATURDAYS from 1:00-4:00 (dates listed below).
• Materials:
All needed materials will be provided.
• Location:
Classes will take place in the
Caretakers Garage
.
• Fees:
$40 per class, payable with check only to Saint-Gaudens Memorial.
• To Register:
Call
603-675-2175 ext. 106 (Limit of 10 students per class.)
DATES
► June 22 - Still Life Drawing at Saint-Gaudens
- Learning the basics of constructive drawing
► June 29 - Sculpting Drapery
- Introduction to working in clay
► July 6 - Portrait Drawing
- Understanding the construction of portraiture
► July 13 - Portrait Sculpting: Part One
- Learning how to sculpt a bust from observation
► July 20 - Portrait Sculpting: Part Two
- Learning how to sculpt a bust from observation
► July 27 - Portrait Sculpting: Part Three
- Learning how to sculpt a bust from observation
BREAK - Aug 3 - NO CLASS
► Aug 10
- Sculpting from Photograph
- Learn to sculpt using photo reference
► Aug 17 - Sculpting from Photograph
- Learn to sculpt using photo reference
► Aug 24 - Relief Sculpting: Part 1 -
Learn to sculpt a portrait in relief
► Aug 31 -
Relief Sculpting: Part 2 -
Learn to sculpt a portrait in relief
► Sep 7 - Relief Sculpting: Part 3 -
Learn to sculpt a portrait in relief
► Sep 14 -
Casting Relief
-
Learn to cast relief from workshop in plaster
► More information
:
https://www.danielwillig.com/work
Last updated: June 12, 2019