Sculptor-in-Residence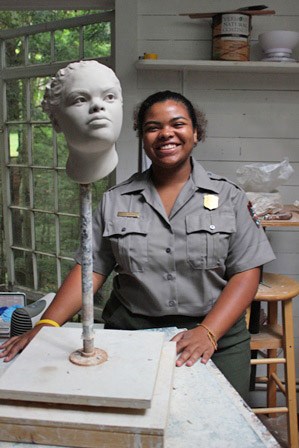 Saint-Gaudens National Historical Park hosts the oldest continual artist residency program in the National Park Service. Begun in 1969 by the Saint-Gaudens Memorial, the presence of a figurative sculptor continues to inform and inspire visitors to this day.

The artist works in the historic Ravine Studio, located at the forest edge overlooking Blow-Me-Up Ravine. Visitors watch the artist work and learn about the process of sculpture. The Sculptor-In-Residence also conducts a series of sculpture workshops. Classes can include portraiture, depicting the natural world, or more advanced classes in mold-making. The program runs annually from June to October. For more information about applying to be a Sculptor-in-Residence, please visit this page: Sculptor-in-Residence Program.

The park's nonprofit partner, the Saint-Gaudens Memorial, continues to support the Sculptor-in-Residency program.
Zoe Dufour - 2020/2021 Sculptor in Residence

Introducing Zoe Dufour - Meet Zoe virtually on YouTube!
Zoe Dufour rejoins the team at Saint-Gaudens National Historical Park after completing a virtual residency from her Northern California home studio in 2020. She is a recognized figurative sculptor with experience teaching. Dufour grew up in Northern California, where she studied under artists Rita Alvarez and Gerald Heffernon. She has studied art at the Ashland Academy of Art, Grand Central Atelier, and Hudson River Fellowship and worked for the prestigious Studio EIS in Brooklyn. Her work has been recognized by the National Sculpture Society, Salmagundi Club, Brookgreen Garden, and American Arts Awards. She describes her artistic motivations below:

As an artist, I explore the beauty and design of nature through the study of the human form.
When I sculpt, I set up a rational framework for a piece through empirical knowledge, which gives appropriate constraints that my intuitive understanding can successfully play within. Intuition needs experience to guide it, and logic is dry without an emotional component. I am trying to achieve sculptures that balance between these modes of processing visual information; the physical and philosophical, form and concept. There is a strong dialogue between practices and thinking, a direct relationship between the hand and head. This balance is echoed everywhere in nature, and is a constant source of inspiration. Potential for tactile, emotional, and physical connections between objects, space, people and nature are what draws me sculpt.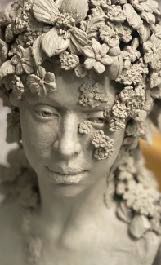 Sculpture Workshop Classes @ Saint-Gaudens NHP
2020 Sculptor-in-Residence, Zoe Dufour - Instructor
Stay tuned for 2021 Sculptural Workshops!

To Register: Email jamie_patton@nps.gov with your full name, email address, phone number and any questions you may have. Jamie will provide the link to pay.
Each workshop limited to eleven participants at this time. *Materials are not included; instructor will send link to suggested outlets for clay/tool purchases.




Past Workshops
♦ Simple Still-life Drawing: Saturday, September 12th,
1:00-3:30
Fee: $20
In this class we will set up and draw a simple still life. We will pick two to three simple objects from around the home that are meaningful to the participants, or compose a small narrative, and use these to create our still-life scenes. We will discuss basic compositional design and how to take comparative measurement in drawing to accurately render our still-lifes. Students will also learn how to effectively group light and shadow to create convincing depth in our drawings. The class will be held via Zoom, and participants will need a smartphone, tablet, or computer with camera to participate. The students will need to bring pencil (recommended B, HB, and 2H lead, but any pencil will do!), paper, and 2-3 household objects or knickknacks.
♦ Sprig-Mold Clay Workshop, Two-Part Series: Saturdays, September 19th & September 26th, 1:00-3:30
Fee: $60
Introduction to sprig molds: In this two session class we will be making small sprig molds based off of small decorative clay sculpts the students themselves create! Sprig molds are a wonderful tool when creating thin repetitious forms for sculpture. The floral decorations on the sculpture below were all created with the use of sprig molds. In the first session, students will sculpt the designs for their sprigs molds while we discuss how to make forms that will release easily from the mold, and be successful in ceramic production. In the second class, we will create our sprig mold, learning basic techniques for working with plaster including controlling the plaster's viscosity. We will cover how to eliminate air-bubbles from the mold's surface and safe material management. Students will end the course with their own sprig molds, ready to use on future projects. Materials are not included. Students will need: - 1-3 lb of plaster of paris or pottery plaster - a dust mask - 3 clean 1 quart buckets (or similar plastic tupperware is a good alternative) - tools for modeling their clay sprig designs - soft paint brush - a small tray or box.
Last updated: February 22, 2021