Sculptor-in-Residence Program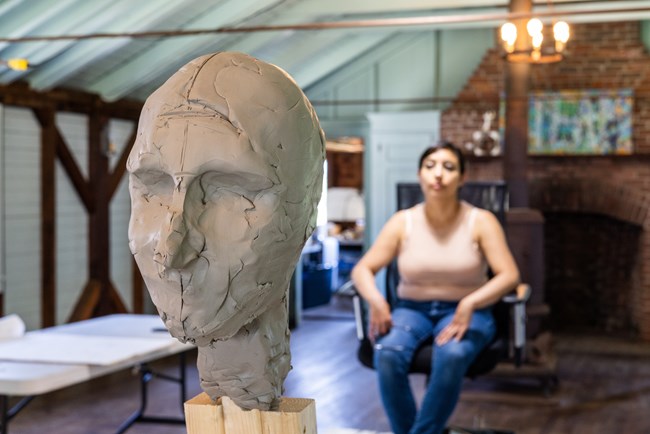 Sculptor-in-Residence
Saint-Gaudens National Historical Park, Cornish, NH


2023 Update!
We're pleased to announce that Sean Hunter Williams, the park's 2022 Sculptor in Residence, will be returning and joining us again in the same role in 2023.

For 2024, please check back for updates in November 2023. See below for details about the position.

Spend your summer at the Saint-Gaudens National Historical Park, a National Park for the Arts, dedicated to interpreting the life and work of renowned sculptor Augustus Saint-Gaudens (1848-1907) and the Cornish Colony of artists. The National Park and the Saint-Gaudens Memorial, its non-profit partner, are seeking applicants for the Sculptor-in-Residence (SIR) program. The program is open to sculptors working in a traditional figurative style who are interested in working in the inspiring setting of Saint-Gaudens's home, studios, grounds, and sculpture and sharing their passion and knowledge of the creative process with visitors to the park.

The SIR runs an open studio in the historic Ravine Studio, working on their own projects and explaining the sculptural process to visitors to help them better understand and appreciate the sculpture they see at the park and in their own communities.

The position runs from mid-May through late October and includes the following major duties:
Operate an open studio on a consistent schedule during core park visitation days/hours, including weekends, i.e.: Wednesday through Sunday from 9:00-4:30. Alterations to the established schedule can be accommodated with approval of park staff at least one week in advance.

Provide a 20-minute sculptural process demonstration 4 days a week for the public.

Develop and teach a series of twelve to fifteen 3-hour basic to intermediate level sculpture classes held on Saturday afternoons following a morning open studio session.

Maintain open studio hours during every Sunday afternoon concert (10 per season) and at the Sculptural Visions day-long event in late September.

Participate in education programs throughout the season, including conducting hands-on mini sculpture workshops and meeting with school groups to explain the sculptural process.

The Sculptor-in-Residence position is administered through the Saint-Gaudens Memorial.

For more information or specific questions, please contact:
Kerstin Burlingame
Saint-Gaudens National Historical Park
603-675-2175 x100
Kerstin_Burlingame@nps.gov
Last updated: January 4, 2023