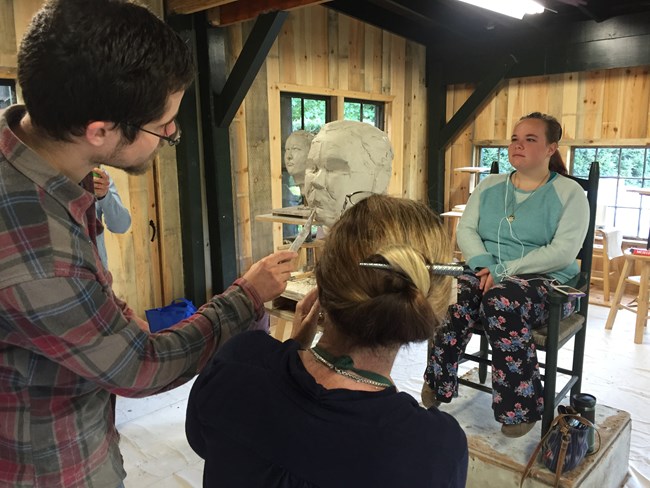 If you are a figurative sculptor, this artist residency is perfect for you! Be the Sculptor-in-Residence at New Hampshire's only National Park. This site features the studios, home and work of Augustus Saint-Gaudens, one of America's greatest sculptors.

Each year Saint-Gaudens National Historic Site (nps.gov/saga) offers an artist the opportunity to serve as sculptor-in-residence. Because of the nature of the park and the position, this residency is specifically for figurative sculptors. He or she has exclusive use of the historic Ravine Studio and materials and most tools are provided (clay, plaster, wire etc.). The sculptor, while working on his or her artwork, runs an open studio and serves an important role in the Site's interpretive program. Park visitors may visit the studio and meet a working artist. The sculptor can explain or demonstrate the sculptural process. This helps visitors to better understand and appreciate the sculpture they see at the park and in their own communities. With extensive visitor contact, it is important that this person be comfortable interacting with the public.

This position is a wonderful opportunity for sculptors. Not only does the artist have the chance to spend the summer working on his/her art and receive great public exposure, they do so in one of New England's most beautiful and culturally significant settings.

Position duties, May-October
The primary responsibility is to operate an open studio on days and at times of the sculptor's choosing, as long as these hours are maintained when park visitors can meet and see the sculptor at work. The sculptor can answer questions, and may explain and demonstrate the sculptural process. The schedule for each two-week period will be established in collaboration with park staff at least one week in advance.
Provides a 45 minute interpretive tour twice a month, from an artist's perspective, of the sculptural process using some of Saint-Gaudens' artwork on exhibit.
Develops and teaches a series of 15 – 18, three-hour basic to intermediate level sculpture classes held on Saturday afternoons, with an open studio occurring in the morning.
Maintains open studio hours during every Sunday concert, including several hours before and after.
Participates in the education program during the Spring and Fall, by conducting at least four, hands-on, mini sculpture workshops with visiting school groups, and is available to meet with visiting school groups to explain the sculptural process.

The Sculptor-in-Residence is arranged through the Saint Gaudens Memorial. The sculptor works from early June through late October, 2017. Stipend is $17,000 for the season. Housing is not included, but may be found in local communities.

The Sculptor-in-Residence application process is closed for 2019. Check back in early 2020 if you are interested.