Sculpture Workshops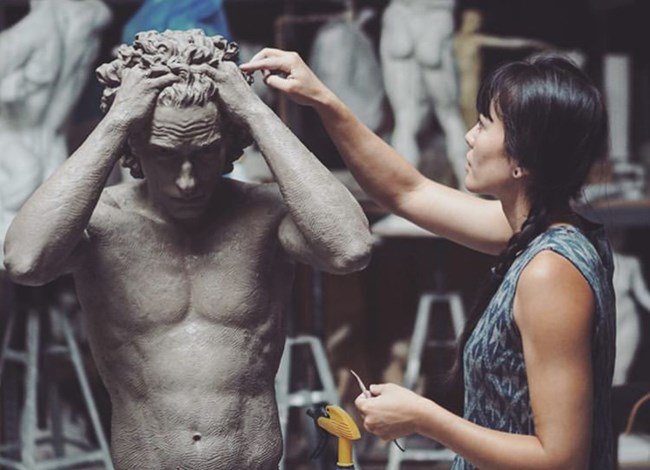 Sculpture Workshop Classes @ Saint-Gaudens NHP

2021 Sculptor-in-Residence,
Zoe Dufour - Instructor
To Register: Email marie_clifford@nps.gov with your full name, email address, phone number and any questions you may have. Marie will provide the link to pay.
Each workshop limited to nine participants at this time.
*For virtual workshops materials are not included; instructor will send link to suggested outlets for clay/tool purchases.

Introduction to Sculpting a Bas Relief Portrait in Profile ( Virtual Zoom Class)
Two Part Series: September 11, September 18, 1:00 – 4:00 pm each session
$80 for series
Over two classes, students will learn how to create a relief sculpture.
Students will supply of the person they would like to sculpt (taken in profile. Reference image and instructions for photographing the reference will be provided), and in this class we will use the photo to sculpt a Bas Relief.
We will discuss how to effectively compress 3-dimensional depth to create convincing space within the relief. We will discuss form hierarchy, why some forms will be more pronounced in relief, and others less so.
Students will learn basic principles of perspective in addition to clay modeling and finishing techniques.
The class will be held via Zoom, and participants will need a smartphone, tablet, or computer with camera to participate.
Recommended tools:
-2 lb chavant sulfur-free plastalina (or comparable oil-based clay)
-thin sharpie marker
-clear sheet of plastic (like zip-loc bag)
-"Knife like" wooden modeling tool
-clay needle tool
-medium sized paintbrush or sponge
-spray bottle
-plastic bag (to wrap sculpture up in-between classes)
-small tupper-ware or bowl
Last updated: September 15, 2021