Sculpture Workshops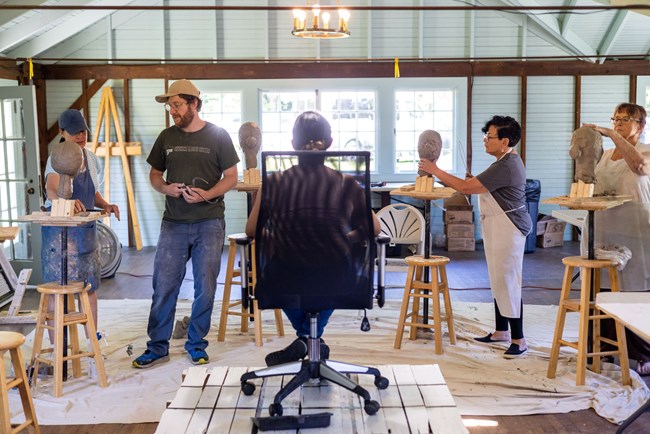 Registration now open.
Sculpture workshops allow anyone to continue a tradition of creativity and learn from the park's sculptor-in-residence. Instructor Sean Hunter Williams leads this expanded series through the summer season.
Four-hour workshops including
Flower Sculpture
(June 10),
Portrait Sketching
(July 8), and
Introduction to Sculpting Bird Wings
(September 9) are fun and focused opportunities for new sculptors and experienced artists alike.
Flower Garland Sculpture
(June 24-25) and
Profile Portrait Relief
(July 29-30) will encourage students to draw upon the beauty and creativity of the park. Those looking for an intensive dive into figurative sculpture should consider
Portrait Sculpture
(August 17-20).
Registration
is required and includes all materials and supplies. Space is limited to 10 students for each workshops. Students must be at least 14 years old.
2023 Workshop Calendar

With spring in full bloom, students will use the beautiful gardens at Saint-Gaudens National Historical Park to create clay sketches of their favorite flowers. Sculptor-in-residence Sean Hunter Williams will guide participants to sculpt flowers in relief during this four-hour workshop.
Students will sculpt an arrangement of intertwined flowers inspired by the gardens at Saint-Gaudens National Historical Park. Instructor Sean Hunter Williams will guide students to create garland in clay. This type of botanical ornmament is sometimes seen in architecture. Students will choose at least five different flowers from the gardens to adorn their sculptural relief.
"Sketches" are meant to be fast and fun and created free of inhibitions and inner criticism. In this class, students will focus on basic facial proportions and anatomy to explore facial expressions related to various emotions. The sketches created for this class will be done in 15-minute intervals at a scale that fits in the palm of your hand.
Instructor Sean Hunter Williams will guide students in creating a low relief profile portrait of a subject of their choice. The workshop will include a guided tour of portrait reliefs by Augustus Saint-Gaudens on view in the galleries. After taking a close look at his technique and style, students will move to studio space in the Caretaker's Garage to begin sculpting their own. Participants should arrive with a profile photo printed at half scale (about 4 inches from chin to top of the head) to use as a reference for the class.
Instructor Sean Hunter Williams will guide students in creating a life-sized portrait from start to finish in this four-day workshop. Students will learn the structure of the skull, basic facial proportions, and anatomy using a live model.
Students will examine the morphology of bird wings and how the underlying forms influence their function. Instructor Sean Hunter Williams will also introduce students to the shapes of individual feathers that compose the different wing formations in this hands-on clay workshop. Participants will leave with a better understanding of layering, tucking, and folding of feathers and forms, as well as techniques to achieve these effects in clay.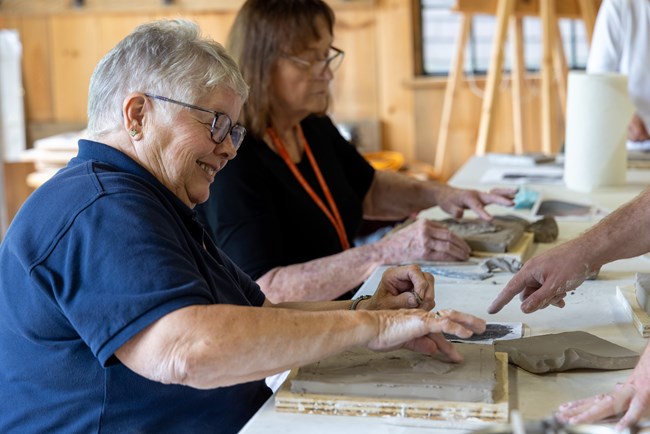 The sculptor-in-residence program at Saint-Gaudens National Historical Park continues a tradition of inspiration and education at the former home of acclaimed sculptor Augustus Saint-Gaudens (1848-1907). Since in 1969, a sculptor-in-residence working in the figurative tradition has created art on site and interacted with visitors through workshops and open studio hours. The program is a collaboration between the National Park Service and
Saint-Gaudens Memorial
.
Last updated: May 26, 2023