Seasonal Ranger Immortalized in Clay Sculpture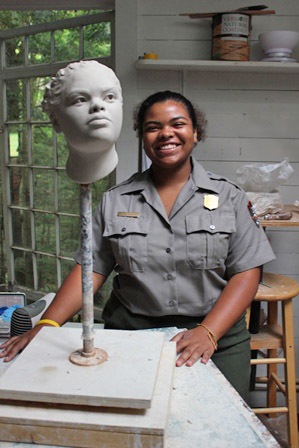 News Release Date:
August 6, 2012
Contact: Gregory C. Schwarz
By Cyrus Forman

Saint-Gaudens National Historic Site is not only New Hampshire's only national park, it is also the only national park dedicated to interpreting the life and works of an American sculptor, Augustus Saint-Gaudens (1848-1907). Like most national parks, visitors to Saint-Gaudens NHS can enjoy ranger guided tours, an extensive museum, and beautiful scenery; but unlike most parks, Saint-Gaudens NHS has a staff member whose job is to show visitors how sculptures are created. This year, the park is happy to host Amanda J. Sisk as our 2012 sculptor-in residence, whose prior life experience had perfectly prepared her for her duties: "My education was traditional, figurative, and European; in essence, I studied and work in much the same way that Augustus Saint-Gaudens did," Amanda explained.
    Sculptors often require models to sit for them. To prepare for one of the sculpting workshops  she offers to the public, Amanda asked seasonal park ranger, Zuleica Gerardo, to serve as a model. This simple request spawned a complex and beautiful work of art. Though Zuleica only posed for three hours, Amanda has worked for nearly a hundred hours shaping her image in clay. According to Zuleica, "the best art I can do is a lop-sided stick figure."  The artistic process has also helped to create a personal friendship: "Zuleica was a stranger when she began sitting for me. I have little time for socializing, and so we became better acquainted as a direct result of this sculpture," Amanda said. Zuleica has seen how Amanda's artistic engagement leads to a unique friendship:  "We'll be playing badminton and she'll stop, stare at my left ear and say, 'I got that wrong'." Zuleica also has a better understanding of the long and involved creative process of sculptors like Amanda and Augustus Saint-Gaudens, who frequently created over a dozen models before he finished a work of art: "Amanda has a miniature version of me in the studio and is always consulting with it to get feedback while I am off leading tours," said Zuleica. When the sculpture is completed it will be given to Zuleica who plans to present it to her mother as a gift.
  Amanda Sisk's work is part of a long tradition; Saint-Gaudens National Historic Site hosts the oldest artist in residence program in the National Park Service. The program began in 1969 and has been continuously operating since then, funded in part through the generous support of the site's partner, the Saint- Gaudens Memorial. The sculptors-in-residence are established figurative sculptors. Each new sculptor lives in the Cornish Community that inspired the artists of the Cornish Arts Colony and works at Saint-Gaudens Gaudens NHS, the home and studio of America's greatest sculptor, the entire season that the park is open from Memorial Day until the end of October. The sculptor-in-residence brings his or her talent to a historic studio the park has set up overlooking a ravine near Saint-Gaudens's home and studios and the sculptor provides their own tools and materials. The sculpture of Zuleica is helping to bring the artistic process alive for visitors, Amanda noticed: "The public seemed to enjoy recognizing Zuleica in the studio after having been on a tour with her or encountering her elsewhere on the grounds; she was the ice breaker for many a conversation." Connections like those the sculpture fosters are completely consistent with the park's mission; according to Rick Kendall, the park superintendent, "Saint-Gaudens National Historic Site was established to be a living memorial, not only to the life and work of Augustus Saint-Gaudens, but also to engage contemporary sculptors and living artists." Consequently, past sculptors in residence have included individuals who work in media similar to those used by Saint-Gaudens and those who work in media that Saint- Gaudens never used such as paper sculpture; these artists demonstrate the techniques used by sculptors to create vivid works of art. Visitors are encouraged to drop in on the sculptor-in-residence and engage her in a dialogue on her artwork and the creative process, thereby serving as a living bridge between Augustus Saint-Gaudens and the artists who carry on his legacy.
Last updated: February 26, 2015