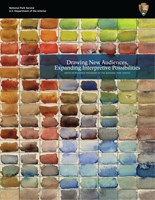 Saint-Gaudens National Historic Site and Weir Farm National Historic Site recently initiated a project to better understand the current status and opportunities of the National Park Service Artist-in-Residence programs. As the only two National Park Service site dedicated to visual artists, both with active Artist-in-Residence (A-I-R) programs, we often find ourselves being consulted by other parks and offices in and outside the agency as sources of current A-I-R program information.
This new report, prepared by the superintendents of both parks, is now available to help guide other units of the National Park Servide in establishing artist residencies The report, also available to the public in a pdf format, includes a number of case studies, including the artist-in-residence at Artist-in-Residence at Weir Farm NHS and theSculptor-in-Residence at Saint-Gaudens NHS.

Saint-Gaudens NHS artist residency is specifically for figurative sculptors. The Sculptor-in-Residence is a paid, six month position, and is an important part of the parks educational programs.