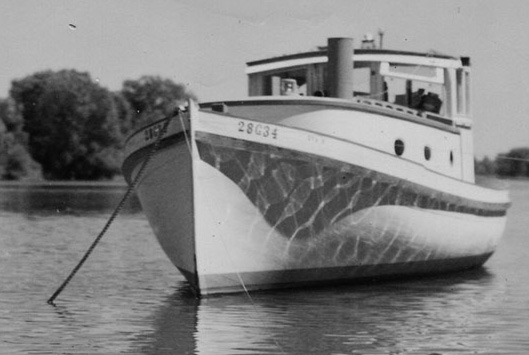 News Release Date:
March 23, 2015
Contact: Lynn Cullivan, 415-561-7006
The 30-foot, plumb-bow wooden power boat Eva B. slid out of Menotti Pasquinucci's Sausalito boat shop in 1936. On Saturday, April 11 from 11 a.m. to 1 p.m. at Hyde Street Pier, San Francisco Maritime National Historical Park (NHP) will return Eva B. to the waters of the Bay with the break of a champagne bottle. This "getaway" boat, built for "Batch" Batchelder's family fishing trips and Delta adventures, will be rechristened to its original title of Eva B., named for the wife of its owner. The public is invited to help launch Eva B. into the 21st century to commemorate her legacy and new life.
Event speakers will include Batchelder and Pasquinucci family members, park Superintendent Kevin Hendricks, San Francisco Maritime National Park Association Executive Director John Tregenza, and primary boat preservationist John Muir. Admission is free, and visitors can enjoy light refreshments and music, including coronet pieces inspired by builder Menotti Pasquinucci's sheet music. Attendees will also be able to view the new Eva B. exhibit in the Boat Shop on Hyde Street Pier.
For five years, San Francisco Maritime NHP's Boat Shop has worked to restore this beautiful piece of San Francisco Bay history, which combines the sturdy construction of a traditional Bay workboat with the shapely curves of a 19th-century yacht. Guided by research and careful study of Batchelder and Pasquinucci family photographs, major structural components – such as the stem, the deck, and the high, rounded cabin sides – have been painstakingly replaced, using traditional materials and techniques. Many details long since lost, such as vintage 1930s eyebrow and her vintage electric horn, have been returned, recreating her original charm.
For more information about this restoration project, visit www.nps.gov/safr/evablaunch.htm and follow the project on Twitter at #EvaBLaunch.
San Francisco Maritime National Historical Park is located at the west end of Fisherman's Wharf in San Francisco. The park includes a magnificent fleet of historic ships, Visitor Center, Maritime Museum, Maritime Research Center, and Aquatic Park Historic District. In celebration of the 100th anniversary of the National Park Service in 2016, the park seeks to connect with and create the next generation of park visitors, supporters and advocates and invites visitors to join us in celebrating the Centennial milestone. For more information, please call 415-447-5000 or visit nps.gov/safr, https://twitter.com/SFMaritimeNPS, and facebook.com/SanFranciscoMaritimeNHP.
###                                                              3-23-15