Naval Architecture and Marine Engineering Drawings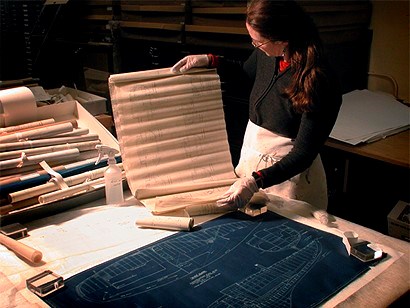 The naval architecture and marine engineering drawings collections consist of records created by naval architects, engineers, and shipbuilders. The Park holds over 150,000 drawings dealing almost entirely with West Coast built vessels, shipyards and facilities. Significant collections document technology in the design, construction, and repair of vessels, especially in the Bay Area. An extensive collection of vessel plans document the marine business and technology of shipbuilding.
Highlights of the collections include plans that document the Park's six National Landmark ships docked at the Hyde Street Pier, as well as the Park's National Historical Landmark buildings.
Packages of plans and drawings for the Park's historic ships are available for each ship. These plans are suitable for model building, but were not originally produced as model building plans. The Park also possesses other drawings of these historic ships, available for for individual purchase, that are not included in the plan packages.
Electronic versions of the plans packages are available at no cost. (Contact us for copies of those not yet online.) Paper copies (in black and white only) printed onto oversized paper are also available. Please contact us for more information.
*Some of the drawings in the plans packages for these ships marked with an asterisk (*) are taken from the
Historic American Buildings Survey and Historic American Engineering Record/Historic American Landscapes Survey
(HABS/HAER/HALS) collection located at the Library of Congress, from which additional photos and drawings of these ships can be downloaded.
Other collections include plans from historic shipyards of the West Coast, including the Moore Dry Dock Company and Bethlehem Steel/Union Iron Works, as well as the professional output of naval architects like David Dickie, George Wayland, and Myron Spaulding.
The Irving M. Scott Papers (SAFR 15792, HDC 125) include approximately 500 blueprints and mechanical drawings between 1881 and 1917, during which time Irving M. Scott was employed at Union Iron Works, Moore & Scott Iron Works, and Pacific Cast Shipbuilding Company, all located in the San Francisco Bay Area. This large collection includes plans for the ferry boats Claremont and San Pablo, the tugboat Dauntless, and US naval vessels USS Olympia, USS Farragut lifeboats, and gunboats USS Wheeling and USS Marietta, as well as many other vessels.
Access to the collection is by appointment only; please consult our FAQ for more information.
Last updated: January 3, 2018