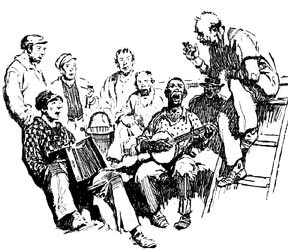 San Francisco Maritime National Historical Park has a strong connection to sea chanties and sea songs. The first Saturday of every month we host our famous
Chantey Sing
. This sing-along on one of our historic ships attracts hundreds of people a month. In the fall, performers from all over the world come to participate in our Sea Music Festival.
If you're interested in learning more about sea chanteys (also known as "shanties") please take a look at some of the resources below. This is not a comprehensive list, rather a sampling of the types of material the
Research Center
has. There are a few citations to articles which can be read through academic databases. Please see your local public librarian for help accessing these.
A note: "Sea chanteys" is a term usually used to describe work songs. These are shorter, with easily repeatable and remembered lyrics to be sung while hauling lines or turning a capstan. "Sea songs," in general, refers to songs sung about sailors by sailors reflecting their time at sea, away from home and in foreign ports.