My name is Sara Schall and I am the new Exhibition Maintenance intern at San Francisco Maritime National Historical Park. My internship is made possible by an agreement with
American Conservation Experience
. I began my internship mid-February. In the short time I have been a part of the team, I have learned much about the importance of the maritime industry throughout San Francisco's history. My daily duties include making rounds to check on the exhibits in the
Aquatic Park Bathhouse
, the
Visitor Center
, and the
historic ships
on Hyde Street Pier. I assist our Museum Technician in cleaning and fixing any exhibits that need maintaining. I have been improving my woodworking, knot tying, and acrylic-working skills. I love walking through each set of exhibits, asking questions about the production and research, as well as finding little surprises, like the faux "mouse hole" on a baseboard in the Visitor Center. Be sure to look for it next time you visit!
The level of detail in our exhibit spaces help visitors to better understand what life would have been like back when there were enough tall ships in the San Francisco Bay to create a "forest of masts". One of the main reasons I was so drawn to this internship was the immersive design so pervasive throughout the park. I went to school for exhibition design, and dreamed of working in a space that could so thoroughly pull me into another environment, especially one so full of maritime history.
My fascination with tall ships began in high school. My father took me on the brig, Lady Washington, because of my particular interest in a certain set of pirate movies. I absolutely fell in love, and knew I had to learn how to sail. The
Lady Washington
provides new sailors with the chance to come aboard and learn the ropes for an immersive learning experience. You live and work on the boat, doing all the things the more salty sailors get to do, like shimmy along a yard arm under sail and stand watch at 4 AM. (It is similar to the
Age of Sail overnight education program
for youth, run by our park's nonprofit partner,
SF Maritime National Park Association
, except
it lasts for two weeks
and it is geared toward people 16 years and up!)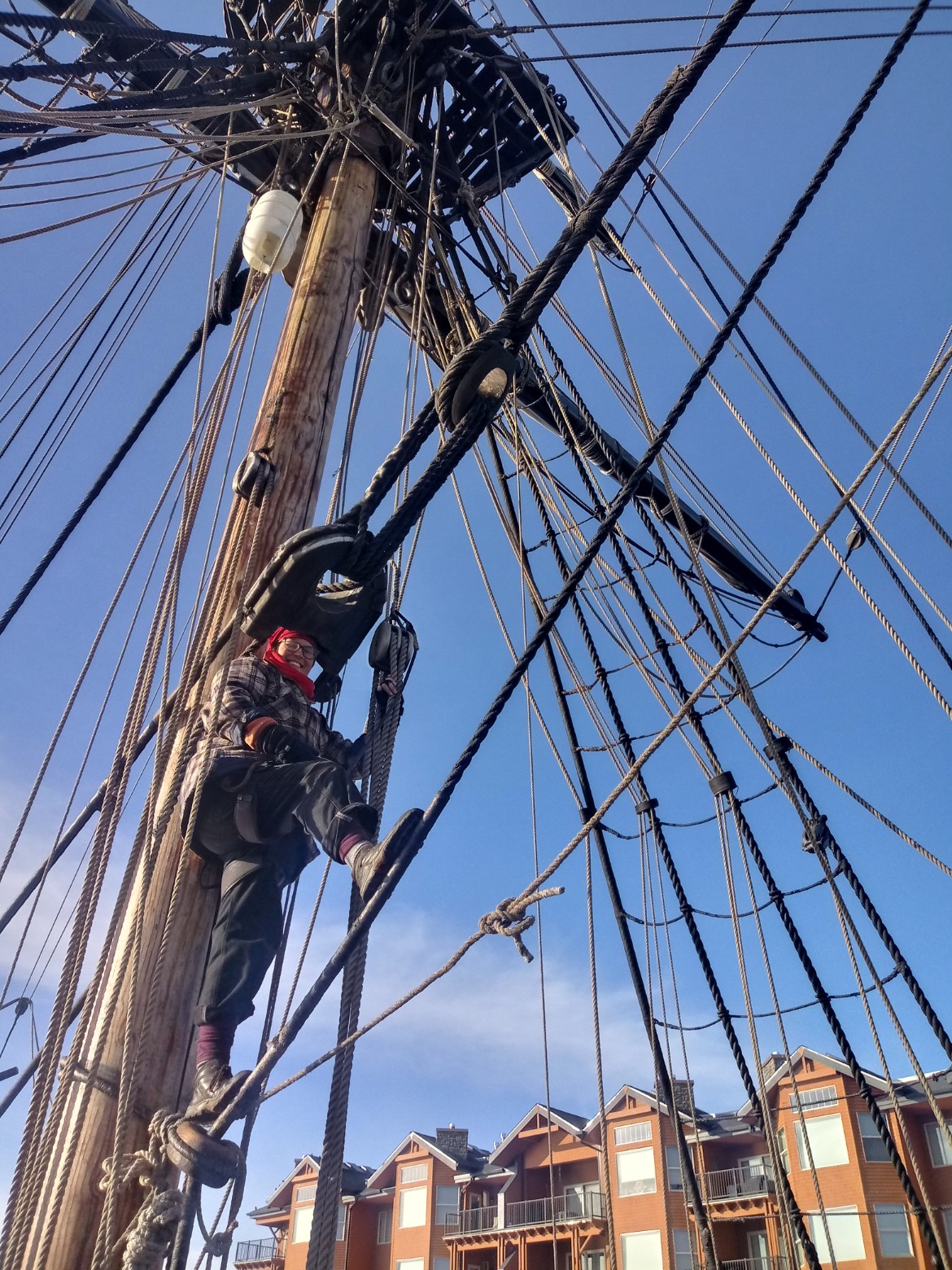 Sara sanding while aloft (Photo credit Sean Bunting, used with permission)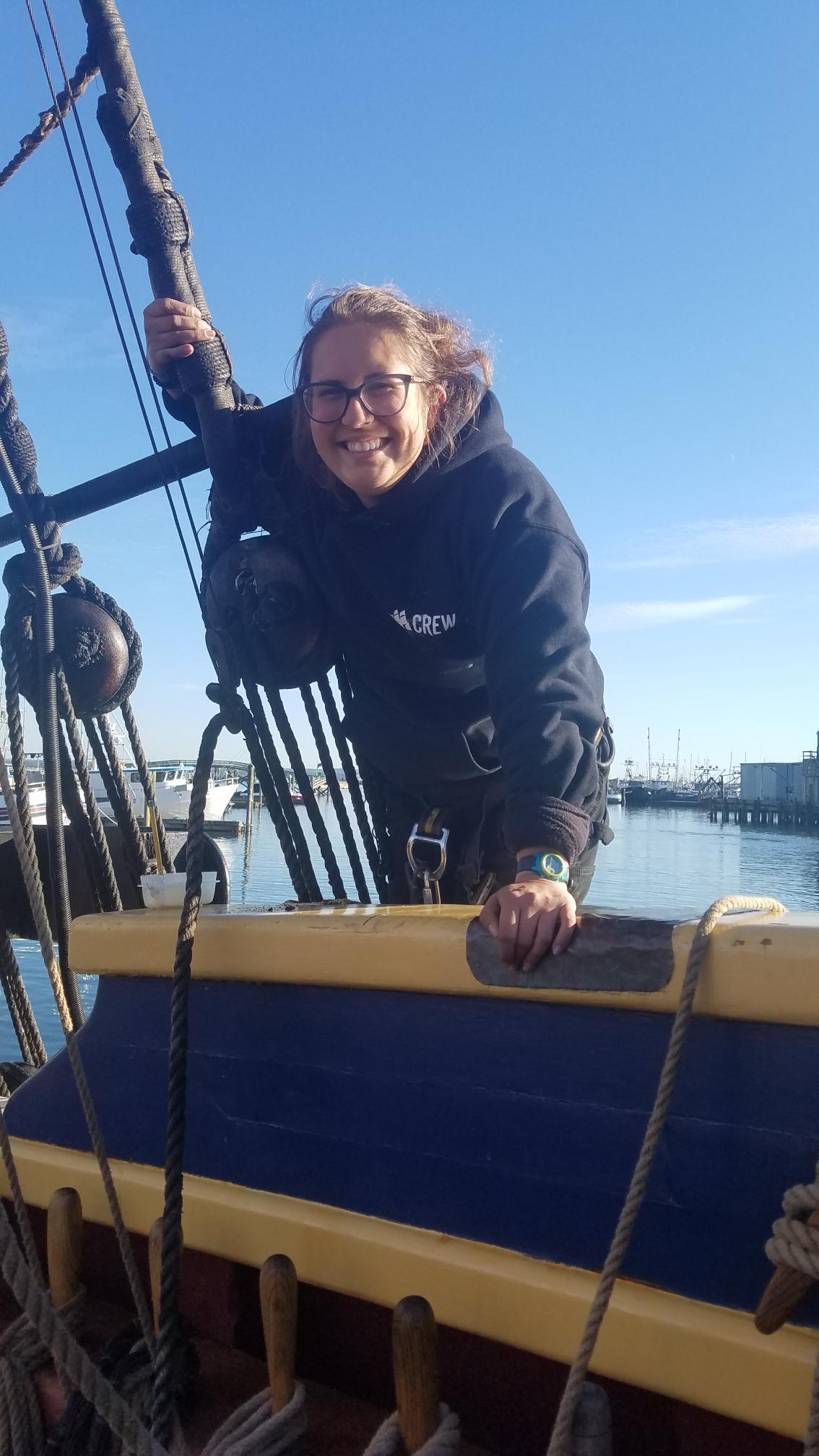 Sara tuning the rig of the
Lady Washington
(Photo credit: Gus Beer, used with permission)
It took me eight long years to finally apply to the Lady Washington program, but after two days on board, I knew that all those years pining had not gone to waste. I truly adore sailing. There are few things that bring me as much joy as climbing out of the fo'c'sle hatch to see the sun shining thought the rigging, even if the fo'c'sle itself smells of sailor feet and bilge. After nearly four months of sailing through California and up into Washington, I determined it was time to come home and get myself a land-job.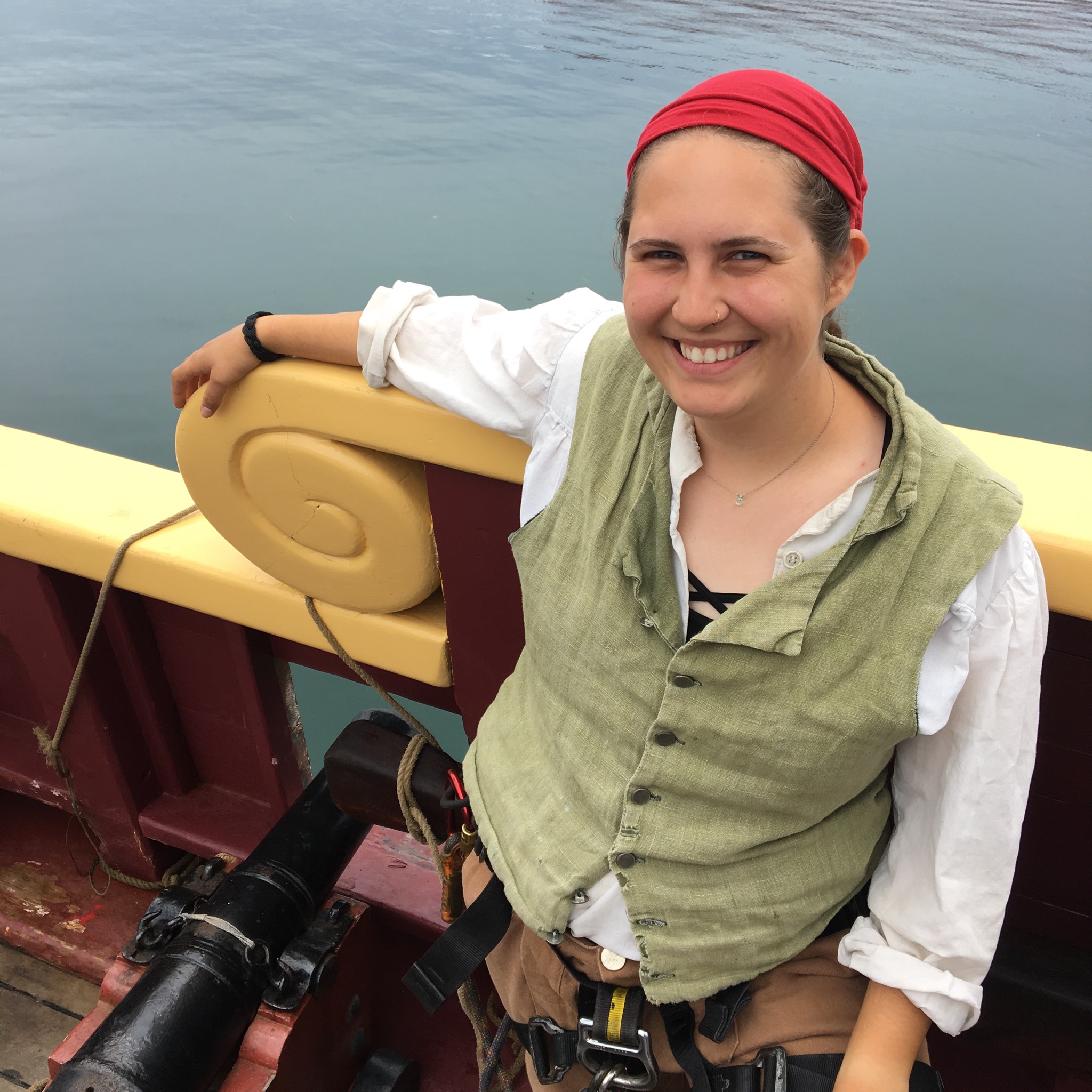 Sara in her "funnies," or, period costume (Photo credit:Christine Tyler, used with permission)
Luckily for me, interning at San Francisco Maritime National Historical Park is as close to working on boats as a land-job can get. Combining my two passions, exhibition design and ships, has been an incredible experience so far. I love that I am able to learn even more about the history of my favorite past-time, while building skills that will help me in my pursuit of both design and sailing experiences.
Because of the local shelter in place order, my work has become digital instead of hands-on. While I usually feel more comfortable using my hands to build boxes instead of sentences, I am
excited to expand on my maritime knowledge in unexpected ways. I am so thankful for the chance to continue my learning, and provide you all with interesting tidbits about the seafaring world.
I plan to explore historical topics, such as sea shanties and maritime cuisine, as well as more technical aspects, like the long contended questions: "Are fore-and-aft rigged ships truly better than square rigged ships?" and "What is the difference between a knot, a bend, and a hitch?"
I look forward to exploring the vast depths of maritime scholarship and sharing it with you all. I will see you in my next post.
Fair winds and following seas,
Sara Schall Exhibition Maintenance Intern, American Conservation Experience