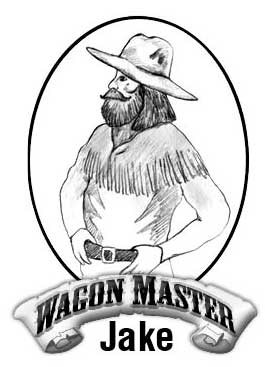 Welcome! Glad to have you on the Santa Fe Trail wagon train! I'm Jake, by the way, the Wagon Master. It's good that you happened by, because I'm in need of helpers up and down the Trail! After you learn about the Santa Fe Trail and complete the activities, I'll make you an official Junior Wagon Master!
Hopefully you'll bring friends and family along on this adventure, so there's four different activity booklets for you to choose from based upon your age. When you finish a section of the trail, you'll earn a patch (see below). There are four sections to the trail, so you have plenty of places to explore!
The program booklets are available at the following Santa Fe Trail sites (small file pdf, 70 KB) or by choosing the links below and printing them yourself.
When you have completed at least eight (8) activities in a section AND you have had your work approved by a site, you may request a patch by contacting:
The Santa Fe Trail Association|
1349 K-156 HWY
Larned, KS 67550
Info@santafetrail.org
Call 620-285-2054
Bullwhacker Edition (ages 12-14)
File viewing requires use of Adobe Acrobat Reader.
Click here to download the program for free.