Junior Wagon Master - Hit the Trail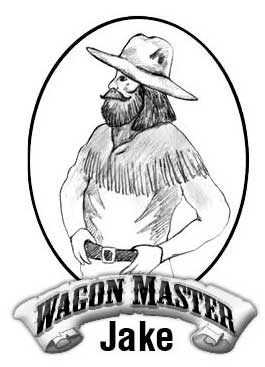 You can earn four patches through the Junior Wagon Master program - one for each section of the Santa Fe National Historic Trail. It's time to hit the trail!

The Freighter Edition booklet is for ages 9-11.
The Bullwhacker Edition booklet is for ages 12-14.

Story Maps
Story Maps are used to access the site stories for the Junior Wagon Master program and are presented below by trail section. You can easily view them on your phone or tablet.

There are links to the Freighter and Bullwhacker activity pages within each stop's site content. Activities will pop open in a new window (for Freighter) or a webpage (for Bullwhacker).
Before you begin your trail adventure, please also review the introduction and glossary:
Introduction (cover, instructions, and trip planning for all ages) - PDF
Glossary and Site List (useful for any of the sections above) - PDF

Challenge Activities

For each section of the trail there are two Wagon Master Challenge Activities. You can complete one of them as a replacement for one site activity per section to count towards your eight.

Freighter Booklet

You may choose to print the booklet before your trip. The sections here correspond to those below in the Story Maps.

Bullwhacker Booklet

When you finish the activities for a section patch, follow the directions on the previous page.

If you have questions, email the Santa Fe Trail Association's Junior Wagon Master program manager.
Eastern
Franklin, Missouri, to Gardner, Kansas
Central
Council Grove, Kansas, to Dodge City, Kansas
Routes
Cimarron, Kansas, to Watrous, New Mexico, or Elkhart, Kansas, to Las Vegas, New Mexico
Western
Pecos, New Mexico, to Santa Fe, New Mexico
Last updated: February 25, 2019