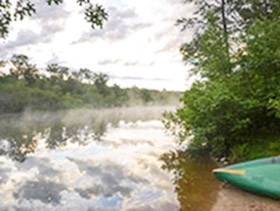 Secluded Paradise
Distance: 9.9 Miles
Duration: 3-6 Hours (+/- depending on paddling pace and river conditions)
Difficulty: Easy - some short sections of light (Class I) rapids, but otherwise calm
Location: Lower Namekagon River
Map 3: County Road K Landing to Riverside Landing
This stretch of the Namekagon River is far away from roads and highways, making it great for wildlife viewing. The river here is mostly flat water with a few riffles and light rapids. Numerous islands and river bends hide other paddlers so you feel secluded. The back channels are enjoyable; just watch out for debris and growth that might block your path. There are also several deep holes that are great for bass fishing.
At County Road K Landing and in most stretches of shallow water, you can also see some of the river's most distinctive inhabitants--freshwater mussels. Importantly these mussels help to maintain the cleanliness of the river by filtering water. Also watch for schools of river redhorse, colorful suckers that sometimes swim under your vessel.
River Level Considerations: This stretch of the Lower Namekagon is generally floatable throughout the season. In times of particularly low rainfall there may be instances of scraping bottom, but they should be infrequent. Go to the current conditions page for more.
Along the way:
8

campsites

(2 are group sites)

Leisure Lake Hiking Trail (near mile 29.3) - The trailhead is on the left bank after the river forks around an island. It is a short hike to a scenic lake.
Multi-day Extension: It is easiest to extend the trip downriver. Do the whole lower Namekagon River with a takeout at Riverside Landing on the St. Croix for a 2-3 day trip. The total distance is about 35 miles and there are 39 campsites along the way with potable water Howell Landing. See Whispering Pine to McDowell for more information about that stretch of river.
Return to Ranger Recommended Paddles