Mollusks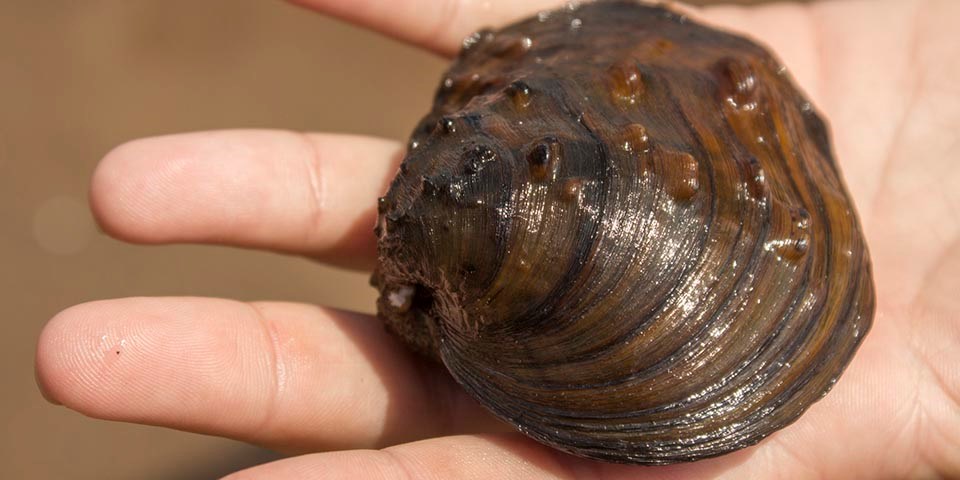 Native Freshwater Mussels

The St. Croix National Scenic Riverway is home to more than 40 species of freshwater mussels--one of the greatest assemblages of these fascinating and sensitive aquatic organisms in the United States. A rare example of an intact river-dependent group of animals, all of the mussel species that existed in the corridor before European settlement are present here today.

The sheer abundance of mussels in the Riverway plays a critical role in maintaining the excellent water quality of the St. Croix-Namekagon river system by filtering water and cycling aquatic nutrients.

The exceptional diversity of mussels in the Riverway provides invaluable opportunities to learn more about these important and declining organisms.
Female mussels need to find a fish to carry their glochidia, (baby mussels) for a few weeks. Then the young can survive on their own and will drop to the river bottom. Different mussel species use different methods to attract the fish and some are very picky as to what kind of fish they want to attract. Watch some videos of different mussels trying to attract a fish.
Female black sand shell mussel tries to attract a fish to host her glochidia (baby mussels) until they can live on their own.

Duration:

14 seconds
A plain pocketbook mussel tries to attract a host fish (likely a bass or perch) to carry the young larvae until they are old enough to drop off and live on their own. The plain pocketbook is common in the river.

Duration:

9 seconds
The pimpleback mussel shown here is excreting her young, thinking that the finger is a host fish come to carry her young.

Duration:

33 seconds


Last updated: December 7, 2020