Whispering Pines to McDowell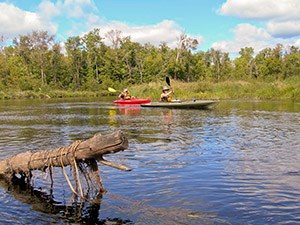 A Calm Float Through the North Woods
Trip Details
Distance: 10.1 Miles
Duration: 3-6 Hours (+/- depending on paddling pace and river conditions)
Difficulty: Very Easy - no rapids, calm water and room to manuever
Location: Lower Namekagon - between Danbury and Trego
Map 3: Trego to Riverside Landing
River Description
There is a chance you could feel like you are in the wilderness here! Wolves really do howl. There are occasional riffles and many deep holes that are great for smallmouth bass, walleye, catfish and pan fishing. The river banks alternate between low lush wetlands and high sandy bluffs. The Namekagon cuts through an undisrupted forest with majestic white pine towering the canopy. The river passes under Highway 77 along the way where the river bottom becomes sandier and large silver maples hang out from the bank.
If you keep your eyes open, you may spot an ancient dinosaur fish: the sturgeon. They can be up to five feet in length and will often hang out under overhanging banks. (Note: It is easiest to spot fish if you wear sun glasses). You might see painted turtles and map turtles nesting in the sandy banks.
River Level Considerations
This stretch of the Lower Namekagon is generally floatable throughout the season. In particularly low rainfall there may be occasional instances of scraping bottom, but they should be infrequent. Go to the river conditions page for more.
Along the Way
10 campsites

2 walk-in group sites with picnic tables at West Howell Landing and Howell Landing.

3 River Landings between start and finish - Howell, West Howell and Fritz

Potable Water at Howell Landing
Multi-day Extension
This trip can extend both up and down river. One of the more enjoyable 2 or 3 day excursions is from County K Landing to Riverside Landing on the St. Croix River. The rest of this longer trip is a bit more difficult with several patches of light rapids both above and below Whispering Pine to McDowell, although none are difficult. The total distance is about 35 miles and there are 39 campsites along the way. See County Road K to Whispering Pines for more information about that stretch of river.
Return to Ranger Recommended Paddles
Last updated: June 16, 2022