News Release
San Antonio Missions National Historical Park Hosted 1.14 Million Visitors in 2020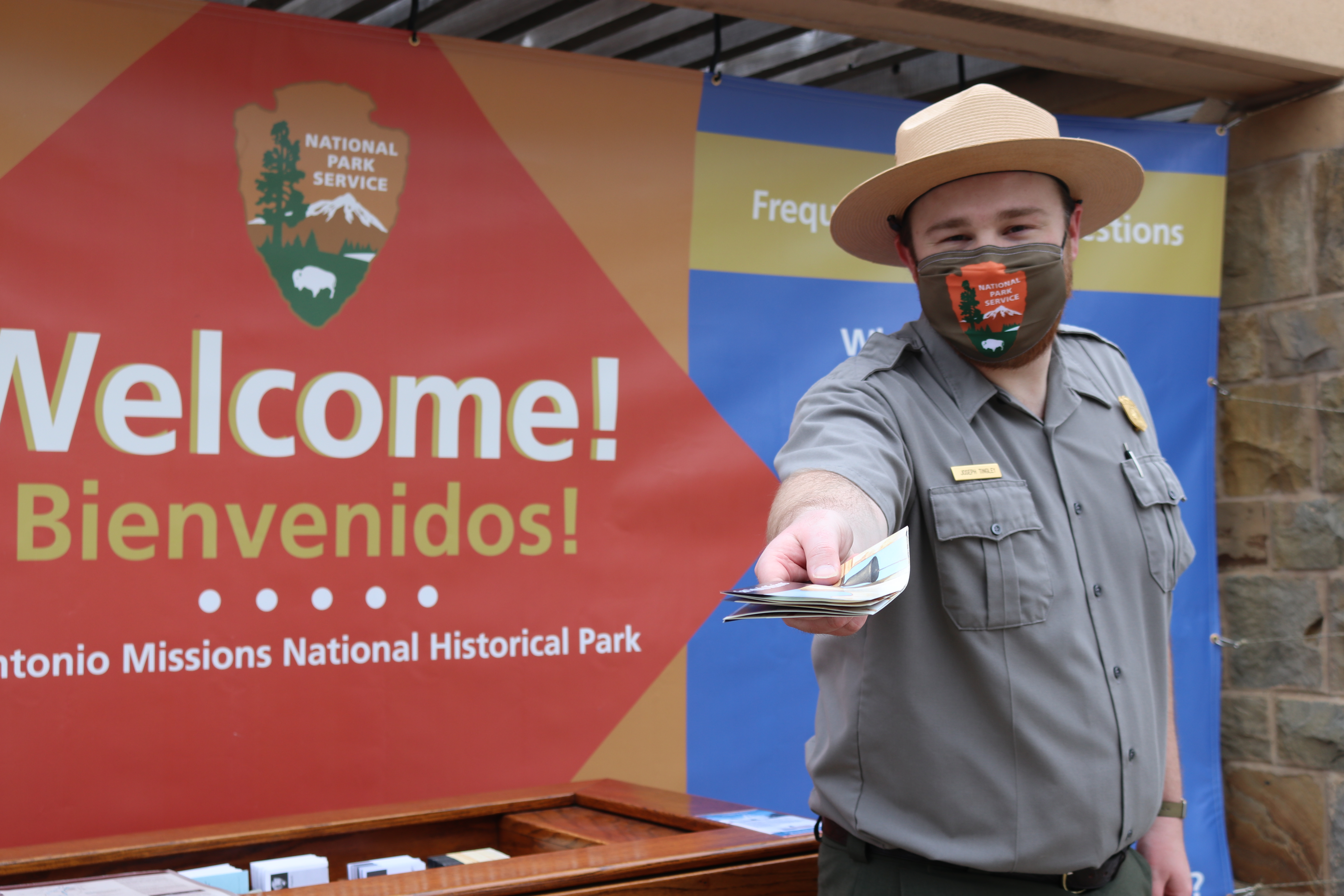 News Release Date:
March 5, 2021
Contact: Justine Hanrahan, (210) 612-5725
San Antonio, TX –
Outdoor experiences at San Antonio Missions National Historical Park provided refuge from the pandemic for over 1.14 million visitors in 2020. The number represents an 11% decrease from the previous year due to the coronavirus pandemic. On average, national park sites across the United States experienced a 28% decrease in visitation in 2020 as compared to 2019.
During the pandemic, the park remained open to visitors of all ages to experience. The San Antonio River Hike & Bike Trail, Yanaguana Trail, and other outdoor experiences provided safe ways for visitors to
recreate responsibly
.  San Antonio Missions National Historical Park commemorated Mission San José's tricentennial year in 2020 by highlighting outdoor mission structures, unveiling the
new park mural
, and emphasizing recreation along the river. Many visitors connected through virtual opportunities to supplement their park experience.
"This past year has reminded us how important national parks and public lands are to overall wellbeing," 
said NPS Deputy Director Shawn Benge.
"Throughout the country, national parks provided close-to-home opportunities for people to spend much needed time outdoors for their physical and psychological health."
"In 2020, many park visitors sought open outdoor spaces for recreation and reflection," said San Antonio Missions National Historical Park Superintendent Christine Jacobs. "San Antonio Missions provided that place for reflection on our past, proved to be an important part of people's lives, and influenced positive impacts on the local economy over the course of this past year."
San Antonio Missions National Historical Park remains open and accessible to the public. Following guidance from the CDC and recommendations from state and local public health in consultation with NPS Public Health Service officers, some park facilities are temporarily closed. To protect the health of those who live, work and visit America's national parks, face masks are required in all NPS buildings and facilities. Masks are also required on federally managed lands when physical distancing cannot be maintained, including narrow or busy trails and parking lots. Visitors should check for details on park operations at
nps.gov/saan
before visiting. Learn about upcoming park activities on our
website,
Facebook,
Twitter
and
Instagram.
For an in-depth look at 2020 visitation statistics, please visit the National Park Service 
Social Science website
. For national summaries and individual park figures, please visit the National Park Service 
Visitor Use Statistics website.
Last updated: March 5, 2021