News Release
Rocky Mountain National Park Announces Plans For Potential Prescribed Burn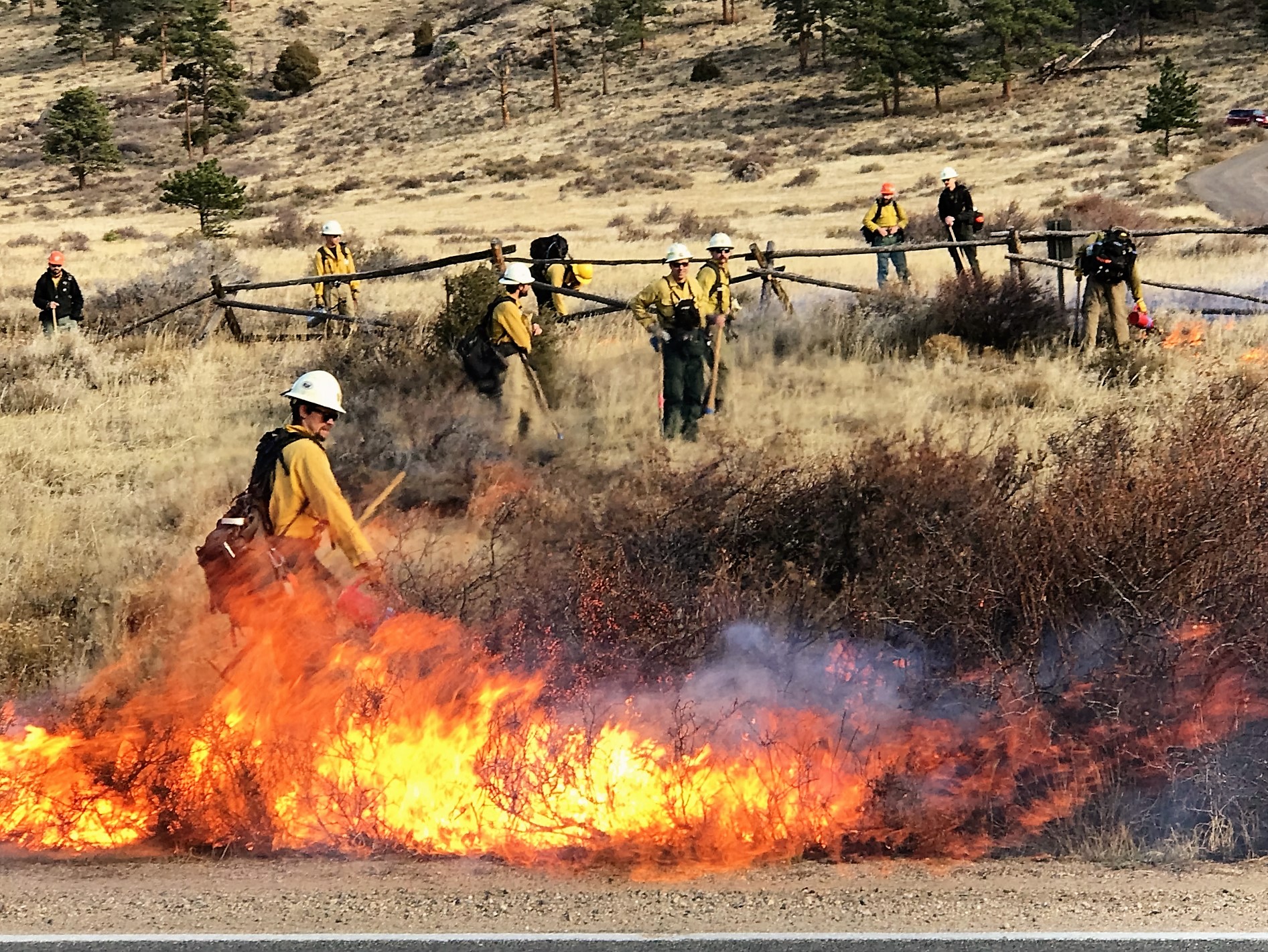 News Release Date:
February 11, 2021
Contact: Kyle Patterson, Public Affairs Officer, 970-586-1363
Contact: Park Information, 970-586-1206
Fire managers from Rocky Mountain National Park are preparing to conduct a prescribed burn in the South Lateral Moraine area, if favorable weather and fuel conditions allow. The area included for the prescribed burn is an approximate 200-acre section near Bear Lake Road between the Big Thompson Bridge and Hollowell Park.  Burning may be conducted for several weeks in multiple segments to limit daily smoke production.  The primary goal of the project is to reduce the threat of wildland fire to adjacent communities and park infrastructure by using prescribed fire to reduce the amount of fuel available in this area.    
When fighting the East Troublesome Fire in 2020 and the Fern Lake Fire in 2012, firefighters were able to take advantage of previous and existing prescribed fire and hazardous fuels treatment areas that provided a buffer between the fire and the town of Estes Park. Prior hazard fuels projects were instrumental in stopping the fire from jumping Bear Lake Road and Trail Ridge Road.    
Depending on when weather and fuel conditions are suitable, prescribed burning operations may begin in March or any time through early spring. Ignitions will likely occur on weekdays with smoldering and smoke emissions lasting for an additional 3-10 days. If conditions are not suitable for the South Lateral Moraine Prescribed Burn, ongoing pile burning in the park may continue.    
Smoke may be visible both inside and outside the park. Every effort will be made to minimize smoke impacts on visitors and the adjacent community; however, some smoke is anticipated to disperse east of the park. Smoke may affect your health: For more information see
https://www.colorado.gov/pacific/cdphe/wood-smoke-and-health
. No trail or road closures are anticipated but visitors passing through active burning areas may be escorted by fire personnel to ensure their safety.    
Safety factors, weather conditions, air quality, personnel availability and environmental regulations are continually monitored as a part of any fire management operation. For more information please contact the park's Information Office at (970) 586-1206.
Last updated: February 11, 2021