Where to get your Passport Stamps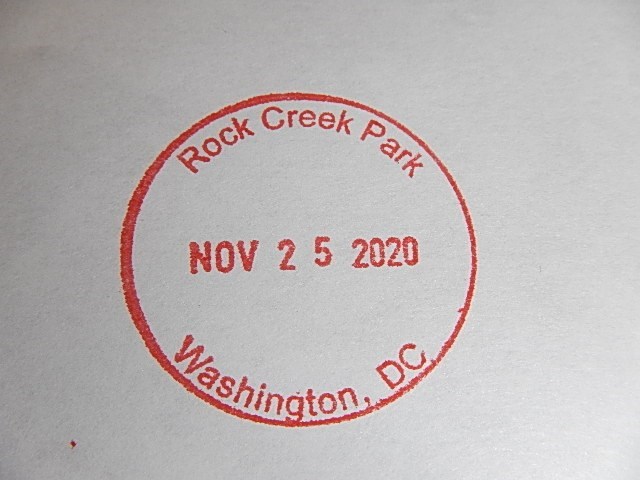 Passport stamps are a fun way to remember your visit to Rock Creek Park and other national parks! Started in 1986 by park partners Eastern National, the program allows visitors to "Put a stamp on every national park experience." In addition, it helps visitors "Take only pictures, leave only footprints" by providing a souvenir to take home.

Each national park site has at least one cancellation stamp for their site. These stamps are circular with the name of the park, the city and state the park is located in, and the date of your visit.

The country is divided into nine regions, and each region was assigned a specific color. Rock Creek Park is in Washington, DC and is in the National Capital Region / Area. Our park stamps use red ink to match placement in the red section of the official Passport book.

Fun Fact: The color of the ink pad generally coresponds to the color of the region the park is in. When in doubt, ask the ranger of volunteer for help!
---
Do I have to have a Passport book to get a stamp?
NO!
You can stamp anything you'd like. People like to stamp:
Park brochures
Travel journals

Postcards

Scrapbooks

Books purchased in the park store

Junior Ranger books and certificates
If you've forgotten your Passport book, don't worry! You can stamp a spare sheet of paper or (if in stock) purchase a sticker sheet designed for the Passport books. Put your stamp in your Passport book when you get home.

Learn where you can purchase a passport book.
Available Stamps
Stamps at the
Nature Center
:
Rock Creek Park - Nature Center & Planetarium
Rock Creek Park- Washington, DC
Rock Creek Park - Peirce Mill
Rock Creek Park - Meridian Hill Park
Rock Creek Park - Klingle Mansion
Civil War Defenses of Washington - Fort DeRussy
Civil War Defenses of Washington - DC, MD, VA
Fort Stevens- Washington, DC
Potomac Heritage NST - Rock Creek Park, D.C.
Rock Creek Park - Old Stone House
Rock Creek Park -Junior Ranger
---
Stamps at
Old Stone House
:
Rock Creek Park - Nature Center
Rock Creek Park - Old Stone House
Georgetown Waterfront - Washington D.C.
Francis Scott Key Memorial - Washington, D.C.
Montrose and Dumbarton Oaks parks - Washington, D.C.
C&O Canal NP, Georgetown - Washington, D.C.
Old Stone House - Junior Ranger
---
Stamps at
Peirce Mill
:
Rock Creek Park - Nature Center
Rock Creek Park - Peirce Mill
Last updated: June 5, 2023