Rock Creek Park Donates 1700 Pounds of Venison to DC Central Kitchen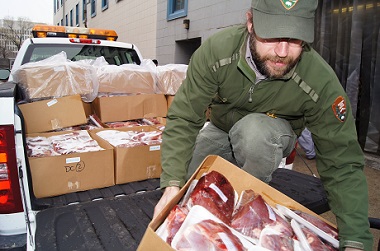 News Release Date:
December 23, 2014
Contact: Media Contact: Jenny Anzelmo-Sarles, 202-619-7177
Contact: Public Contact: Rock Creek Park, 202-895-6009
WASHINGTON–Today, the National Park Service donated 1,700 pounds of venison to DC Central Kitchen. The meat will be used in the thousands of meals that DC Central Kitchen (DCCK) prepares daily for nonprofit partners, including shelters and transitional housing agencies serving the homeless. The donation is a result of Rock Creek Park's deer reduction actions. The park has met its objective of removing 55 deer, which concludes the operations for the winter 2014/2015 window of action.
"This is a wonderful time of year to be able to contribute something positive to those in need, and we're grateful for the opportunity to help fulfill the mission of DC Central Kitchen," Superintendent Tara Morrison said. 
"Because protein is one of the hardest donations to come by, DC Central Kitchen is grateful to receive this nutritious lean protein to use in our meals," DCCK Procurement and Sustainability Manager Amy Bachman said. "We will use the venison in a variety of meals including venison chili and venison bolognese."  
The Rock Creek Park White-tailed Deer Management Plan and Record of Decision calls for reducing the park's deer population to 15-20 per square mile. Population surveys in the fall of 2014 determined a density of 40 deer per square mile in the park. To achieve sustainable population numbers, deer reduction operations are expected to resume next fall. 
Prior to 1960 there are no records of white-tailed deer in Rock Creek Park. Over the past 20 years, the park's white-tailed deer population has grown so large that the deer are eating nearly all tree seedlings, preventing new native plants and trees from growing. Forest regeneration is essential for a healthy ecosystem that provides food and shelter for other native wildlife and opportunities for people to enjoy an urban forest. 
Last updated: April 10, 2015