National Park Service donates 3300 pounds of venison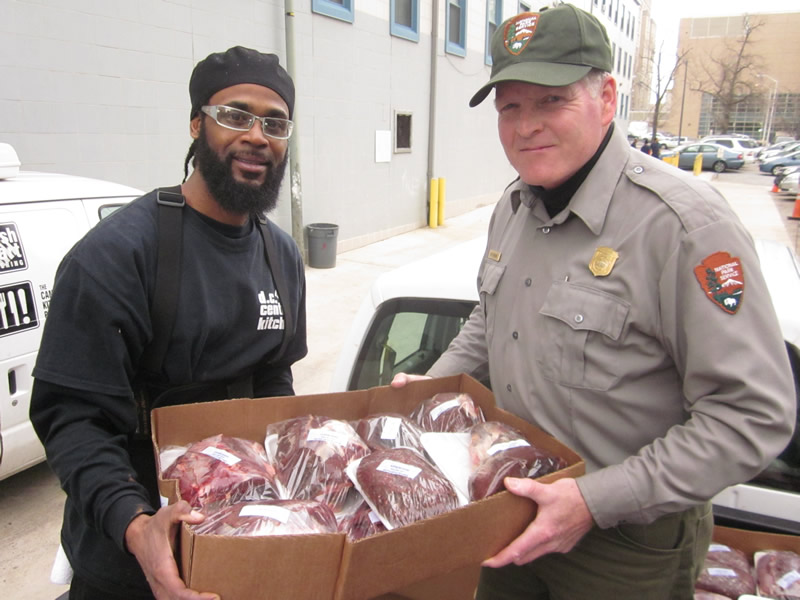 News Release Date:
April 9, 2014
Contact: Rebecca Karcher, 202-895-6222
Contact: Paul Day, 202-234-0707
WASHINGTON – As a result of Rock Creek Park's deer management actions, the National Park Service has donated 3,300 pounds of venison to DC Central Kitchen."The National Park Service is pleased to support DC Central Kitchen in its efforts to help people in need," said Park Superintendent Tara Morrison.
The venison will be incorporated into the 5,000 meals DC Central Kitchen prepares daily for nonprofit partners, including shelters and transitional housing agencies serving homeless men and women. It will serve as a source of protein in meals, such as venison chili or stew, and served with a starch and green vegetable.
"DC Central Kitchen is based on the idea that we can accomplish a great deal simply by effectively and efficiently using the resources we have in our community every day," said DC Central Kitchen CEO Michael F. Curtin. "Our partnership with the Park Service and this donation of high protein venison is just another example of what we can do together if we are practical and purposeful."
For more information on deer management in Rock Creek Park visit: https://www.nps.gov/rocr/parkmgmt/white-tailed-deer-management.htm. For more information on DC Kitchen visit: http://www.dccentralkitchen.org/
For a pdf of this document, please click here.
-NPS-
Last updated: November 22, 2017