National Park Service donates 700 pounds of venison to DC Central Kitchen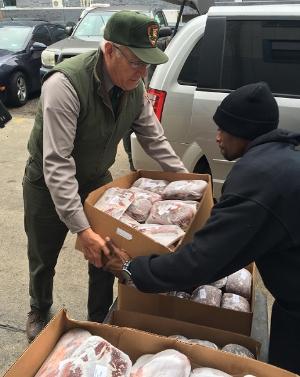 News Release Date:
December 22, 2015
Contact: Jenny Anzelmo-Sarles, 202-619-7177
WASHINGTON— The National Park Service donated about 700 pounds of venison to DC Central Kitchen today. The meat will be used in the thousands of healthy meals that DC Central Kitchen prepares daily for multiple nonprofit partners, including homeless shelters, rehabilitation clinics, and afterschool programs. The venison donation is a result of the deer reduction operation in Rock Creek Park in early December.
"We're grateful for our partnership with DC Central Kitchen and the opportunity to donate venison," Superintendent Tara Morrison said. "We hope this will make the holidays a little brighter for those served by DC Central Kitchen."
"DC Central Kitchen is grateful to receive this donation of nutritious, lean protein from the National Park Service," said DC Central Kitchen CEO, Mike Curtin, Jr. "We rely on our many partners to donate most of the necessary components to create 5,000 well-balanced, healthy meals each day for our neighbors in need. Today's donation of venison offers some new variety to our meals, and we're thankful to our friends at NPS for making that possible."
Since 2013, the National Park Service has successfully and safely reduced the park's deer population from nearly 80 per square mile to an estimated 19 per square mile. A consistent deer population density of 15-20 per square mile is needed for a healthy, diverse forest that supports native vegetation and other wildlife.
While the estimated deer population appears to be approaching a sustainable level, it will take several years of consistent deer management before Rock Creek Park's vegetation and tree seedlings reach desired growth. Scientists will continue to monitor vegetation growth and the number of tree seedlings to determine future deer management practices.
For more information on deer management in Rock Creek Park visit: https://www.nps.gov/rocr/parkmgmt/white-tailed-deer-management.htm. For more information on DC Central Kitchen visit: http://www.dccentralkitchen.org.
Last updated: May 8, 2019