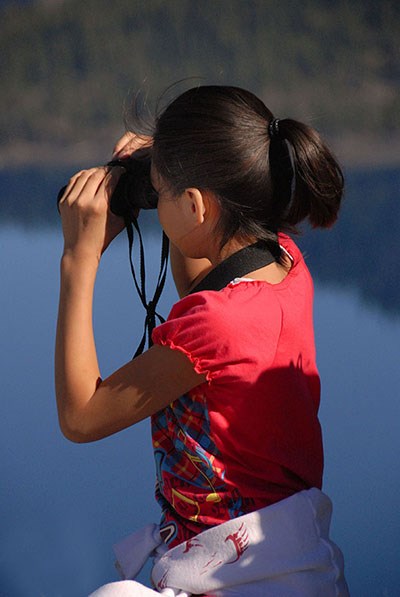 Classroom at Crater Lake is the field trip that students want. Participating teachers love how students engage with their natural surroundings, learn important science concepts, interact with park rangers, exercise, and make great memories. Our field trips are free of cost, hands-on, and aligned to the Next Generation Science Standards.
Fall field trips
Weekdays, September 11 - October 19, 2017 (registration is open)

Spring field trips (on snowshoes)
Weekdays, April 2 - May 18, 2018 (registration is closed and will re-open October 2018)


Register for a fall field trip by reserving a date and completing the registration form. Both steps must be completed together in order to confirm your trip.
Reserve one appointment slot for each class that you plan to bring from your school using our Google appointment calendar. For example, if you plan to bring 3 classes on a Friday in October, you'll need to find a day that fits your schedule that has 3 available appointment slots. If no appointment slots are visible, it means they have already been reserved. Click here to go to the appointment calendar!
Complete our Google registration form for your school. Information of up to four classes can be included on the registration form, however, if you are bringing classes up on multiple dates, please complete a registration form for each date you will attend. Click here to go to the registration form!
Click here to review your field trip options!
Click here to review a tentative field trip schedule!
Click here to review a fall field trip packing list!
Click here to review expectations of parent volunteers!
Click here to watch educational videos that will help you prepare for your trip!
Click here to download a digital copy of our new Student Study Guide with active hyperlinks to more educational resources!
Questions?
Email Education Coordinator John Duwe
or call (541) 594-3092.