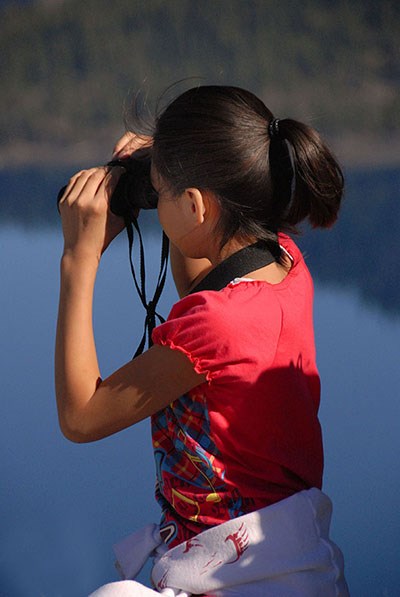 Classroom at Crater Lake is the field trip that students want. Participating teachers love how students engage with their natural surroundings, learn important science concepts, interact with park rangers, exercise, and make great memories. Our field trips are free of cost, hands-on, and aligned to the Next Generation Science Standards.
Spring field trips (on snowshoes)
Weekdays, April 2 - May 18, 2018 (registration is open; see instructions below)

COMPLETE BOTH STEPS OR YOUR RESERVATION WILL BE CANCELED!!!

Step One: Go to https://calendar.google.com/calendar/selfsched?sstoken=UUN2RV9jaGdzS28xfGRlZmF1bHR8MzQ3MDM0MzlhNmZiYmIxNDg2NGRjN2IzZWI5ZjM2MWM
You must reserve one appointment slot for each class you are taking to the park. If there are fewer appointment slots than you need, than we can't accommodate you that day. If it looks like there are hardly any appointment slots anywhere, it's because the program is popular and fills up fast.

Step Two: Go to https://goo.gl/forms/I0ClW8r6VjT9z2lS2
You must complete the online registration form IMMEDIATELY after you make your reservation. Your reservation will be canceled and the dates will open back up for other teachers if your registration form isn't received within an hour of reserving your date.

Confirmation: Please do not consider your class(es) scheduled until you receive an official confirmation email from Education Coordinator John Duwe.
Fall field trips
Weekdays, September 11 - October 19, 2018 (registration is closed and will re-open May, 24 2019)
Click here to download the Spring Teacher Guide with more information about our snowshoe adventures!
Click here to watch educational videos that will help you prepare for your trip!
Click here to download a digital copy of our new Student Study Guide with active hyperlinks to more educational resources!
Questions?
Email Education Coordinator John Duwe
or call (541) 594-3092.