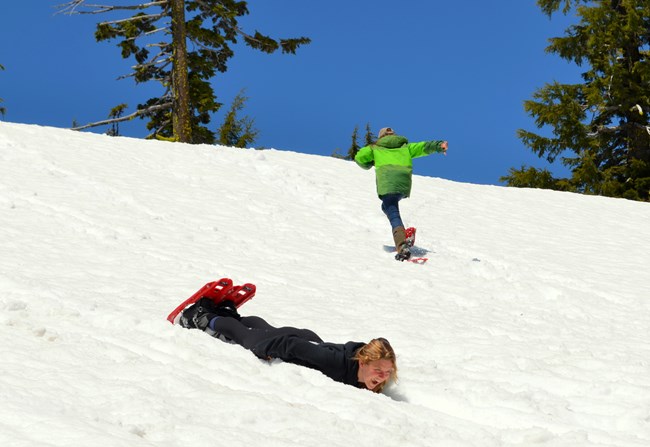 Classroom at Crater Lake is the field trip that students want. Participating teachers love how students engage with their natural surroundings, learn important science concepts, interact with park rangers, exercise, and make great memories. Our field trips are free of cost, hands-on, and aligned to the Next Generation Science Standards.

Fall field trips
Weekdays, September 12 - October 20, 2017 (registration closed)

Spring field trips (on snowshoes)
Weekdays, April 2 - May 18, 2018 (registration opens October 25, 2017)


Follow this two-step* registration process to reserve a spring field trip date and register your classes.
*Both steps need to be completed together or the registration will be canceled.
Reserve one appointment slot for each class that you plan to bring to the park. If you don't see enough appointment slots on a day that you want, you'll need to pick another day. See the appointment calendar and reserve your date here: https://calendar.google.com/calendar/selfsched?sstoken=UUlNbDYzU3RQMjFyfGRlZmF1bHR8ZWNiZDM5NDAwYzhkNDVlZjRjZGM4ODJiZjgxZTJlNTM
Complete the online registration form to select activities and provide detailed information about your classes. Click here to complete the form!
To review the spring field trip schedule, click here!
To review teachers' frequently asked questions, click here!
To review a spring packing list, click here!
To review chaperone responsibilities, click here!
Questions?
Email Education Coordinator John Duwe
or call (541) 594-3092.