Classroom at Crater Lake @home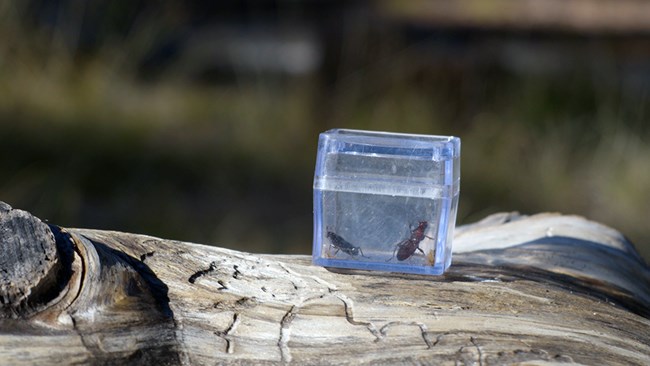 Classroom at Crater Lake @home is an activity series that recreates our most popular in-person field trip lessons. Each interactive video asks students to complete something that they can turn in to their teacher for assessment. All lessons are standards-based.
Student choose the path of their snowshoe adventure as they make life or death decisions to reach a breathtaking view of Phantom Ship. Follow up this reading assignment with a ranger-guided Zoom meeting in May 2021!
Join Ranger John for his first ever hike down the Cleetwood Cove Trail, the only trail that reaches the lakeshore at Crater Lake. Students will watch John discover the role of the National Park Service and specific resources that are protected by the NPS at Crater Lake. Then, students participate by creating their own ranger badge that symbolizes specific things protected at Crater Lake National Park.
Students will watch rangers explore artistic and creative abilities as they compete to win Crater Lake National Park's annual employees' newspaper art competition. Rangers present examples of how art helped preserve Crater Lake National Park as they practice making art and honing their creativity. Students participate by going outside to find inspiration in nature for their own creative artwork. Students can e-mail us their artwork and we'll display it on the official Crater Lake National Park Science and Learning Center website!
Students will watch rangers respond to a windstorm by exploring examples of forest succession and decomposition in the old growth mountain hemlock forest of Crater Lake National Park. Students participate by heading outside with simple tools to identify and photograph fungi, bacteria, and invertebrates, as well as analyze their findings through pondering three open-ended questions.
Where does soil come from?
What came first, soil or the forest?
Why are decomposers important to me?
Last updated: April 13, 2021