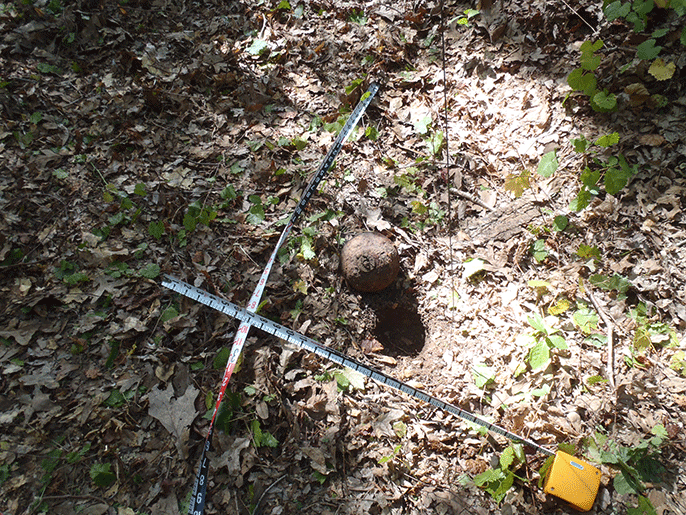 News Release Date:
September 23, 2014
Contact: Elizabeth Paradis Stern, 804-226-5023
RICHMOND, Va.–On Monday, September 22, 2014, staff at Richmond National Battlefield Park discovered an unexploded artillery shell within the moat of a Confederate fortification known as Fort Gilmer in the park's Fort Harrison Battlefield unit.The site was being cleared in preparation for an interpretive tour of Fort Gilmer scheduled for the 150th anniversary of the fighting there, which will be on September 29, 2014.
The park's resource protection rangers responded and, with the assistance of the park historian, determined that it was a live cannonball with an intact fuse.Per the park's live ordnance policy, the park contacted the County of Henrico Police Bomb Disposal Team, which responded.A 500-foot safety perimeter was established and the shell was safely removed and destroyed at the county's firing range.
Park historians determined that the shell was a 12-lb explosive round, possibly used by Confederates at Fort Gilmer as one of several improvised hand grenades rolled down the side of the fort against Union soldiers from the 7th United States Colored Troops (USCT). The USCTs were part of a Union force moving against Gilmer in the latter phases of the Battle of Fort Harrison. The Confederate defensive effort had its desired effect. Of the 198 USCTs who began the attack against Fort Gilmer, only one returned safely.The other 197 were killed, wounded, or captured.
The shell was discovered just days before the park's commemoration of the 150th anniversary of the battles of New Market Heights and Fort Harrison, which includes action at Fort Gilmer.In late 1864, as Union and Confederate armies entrenched around Richmond and Petersburg, Ulysses S. Grant attempted to force an end to the stalemate by pressing Robert E. Lee to extend his ever-thinning ranks.Sending Union troops north of the James River to assault the defenses of Richmond not only stretched Confederate resources, it also diverted Lee's attention from attacks elsewhere along what would become a 37-mile front stretching from Richmond to beyond Petersburg. On September 29, 1864, an assault by Union forces–including United States Colored Troops–on Confederate defenses in eastern Henrico County finally achieved success, solidifying a position at Fort Harrison, but falling short at Fort Gilmer.With victories at Fort Harrison and New Market Heights, Grant established a toe-hold just miles south of the Confederate capital.
On Monday, September 29, 2014, national park rangers and Henrico County Recreation & Parks staff will conduct tours of the New Market Heights and Fort Harrison battlefields–including Fort Gilmer–at the exact time of the historical events and in the places where they happened.Ranger-led tours will also investigate the unsuccessful Confederate counter-attack on September 30 at the time and in the places where it occurred.
More information about the commemorative programs can be found here.