Basic Information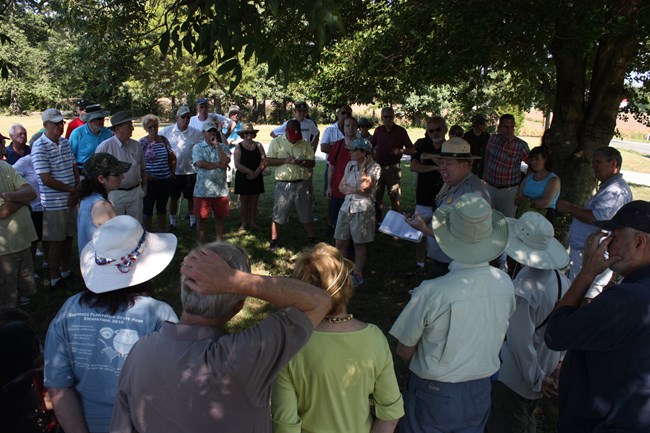 Planning ahead can often make the difference between a good trip and a great trip to Richmond National Battlefield Park, a collection of 13 park units scattered across Hanover, Henrico, and Chesterfield counties and the city of Richmond. Explore these pages to discover the essential things you need to know before you leave home—how to get around the park, where pets are allowed, how to stay safe, and more.
Main Visitor Center

Tredegar Civil War Visitor Center
Open 9am to 5pm 7 days a week
GPS Address:
470 Tredegar Street
Richmond Virginia 23219

Battlefield Visitor Centers (GPS Addresses)
Cold Harbor Visitor Center
5515 Anderson-Wright Drive
Mechanicsville, Virginia 23111
Open 9am to 4:30pm 7 days a week
Chimborazo Medical Museum
3215 East Broad Street
Richmond Virginia 23223
Open 9am to 4:30pm 7 days a week
Fort Harrison Visitor Center
8621 Battlefield Park Road
Richmond Virginia 23231
Summer seasonal hours: Saturday and Sunday, 9am to 4:30pm
Glendale Visitor Center
8301 Willis Church Road
Richmond Virginia 23231
*PLEASE NOTE: EFFECTIVE May 15, 2019, THE NPS NO LONGER OPERATES GLENDALE AS A VISITOR CENTER. You may still visit the cemetery, which is maintained by the Veterans' Administration and National Cemetery Administration, but there are no longer visitor center facilities on site.
Richmond National Battlefield Park has five Visitor Center locations. Tredegar Iron Works is open daily from 9-5, Chimborazo Medical Museum and Cold Harbor Visitor Center are open Wednesday through Sunday from 9-4:30 during the Winter season, and the Fort Harrison visitor center is presently closed.
There are no entrance fees to Richmond National Battlefield Park sites. However there is a parking fee for the American Civil War Center at Tredegar Iron Works. Free parking is available nearby.
The Access Pass, Military Pass, and Fourth Grade (Every Kid in a Park) Pass can be obtained at the Civil War Visitor Center at Tredegar Iron Works.
Last updated: July 17, 2019